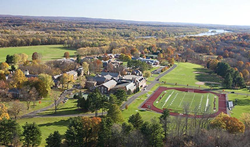 US Sports Camps and Nike Running Camps are thrilled to have Loomis Chaffee's camp back in our line-up.
SAN RAFAEL, Calif. (PRWEB) February 03, 2020
The Nike Track and Field Camp at the Loomis Chaffee School takes place this summer on June 19th-June 23rd, in Windsor, CT. Camp is open to boys and girls ages 10-18 who are motivated to work on their events during the off season. Day, extended day, and overnight attendance options are available.
Campers receive valuable instruction on technique, goal setting, and nutrition. Video analysis will be used to improve form. Athletes can choose from all disciplines (except pole vault). Offered events: throw (shot put, hammer, discus, javelin), sprints, hurdles, middle distance, distance (800m up to the 2 mile), and jumps (high jump, long jump, triple jump).
In his 20-year tenure as Loomis Chaffee's Head Men's T&F Coach and Camp Director, Scott Purdy, has led his team to winning 12 Founders League Championships, including nine of the last 10. In recent years, Purdy has led his team to winning seven prep school events at the Penn Relays. He has coached five different New England champions in the boys' hurdles as well as coached Loomis Chaffee boys' hurdlers to 14 league championship titles.
"US Sports Camps and Nike Running Camps are thrilled to have Loomis Chaffee's camp back in our line-up. They have always run a strong camp for us and it's encouraging to know that their coaching staff is the same who will lead our campers to improvement this summer!" states Jan O'Connor, US Sports Camps Executive Vice President.
Players, coaches, and parents interested in learning more can visit Nike Running Camps at http://www.ussportscamps.com/running or call 1-800-645-3226.
About US Sports Camps
US Sports Camps (USSC), headquartered in San Rafael, California, is America's largest sports camp network and the licensed operator of Nike Sports Camps. The company has offered summer camps since 1975 with the same mission that defines it today: to shape a lifelong enjoyment of athletics through high quality sports education and skill enhancement.