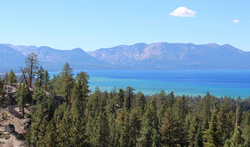 At High Level Running Camp we look to bring that same level of enthusiasm with the knowledge to professionalize your running.
SAN RAFAEL, Calif. (PRWEB) February 05, 2019
Campers can prepare for their high school XC season while training with two-time Olympian Andrew Wheating on picturesque Sierra runs at approximately 6.200 feet. Campers at High Level Running Camp stay at the Granlibakken Resort in Tahoe City, eat in the dining hall and train on the beautiful trails nearby. A lake day is planned for an afternoon soak and beach fun on the shores of the majestic Lake Tahoe.
Camp Director Andrew Wheating, a former professional middle distance runner discovered running late in high school and was recruited to the University of Oregon. In 2008, just after his second year of college, 20 year old Wheating qualified for the Beijing Olympic Games in one of the most historic races in recent years. He returned to Oregon after the games to complete his final two years as a Duck. He would go on to win back to back NCAA titles in the 800m ('09 & '10) while also leading a 1-2-3 Oregon sweep in the 1500m his senior year. Upon graduating from Oregon, he would go on to sign a sponsorship deal with Nike and begin his professional career. In his 7 years as a professional Wheating would qualify for his second Olympics in 2012 in London, win Gold in the 2015 Pan American Games in Toronto, Canada, and run the 5th fastest 1500m ever recorded in U.S. history with a time of 3:30.90. At the completion of his 2017 season he announced his retirement from the sport.
"I was a goofy guy from the foothills of Vermont with an 800 time of 1:58. Two years later I made an Olympic team in the same event. This sport can be stressful, but it can also bring so much joy. I attended one running camp in high school and it was easily the most fun summer I'd ever had," states Wheating. "At High Level Running Camp we look to bring that same level of enthusiasm with the knowledge to professionalize your running. Beautiful trails, a world class resort, and Olympic level training; whether you have Olympic aspirations or just trying to get in shape, we promise to give you the tools you need to succeed!"
The camp is open to all cross-country athletes, ages 12-18, whom are interested in furthering their knowledge on training, injury prevention, nutrition, strength training, and recovery
About US Sports Camps
US Sports Camps (USSC), headquartered in San Rafael, California, is America's largest sports camp network and the licensed operator of NIKE Sports Camps. Celebrating over 40 years, the company has offered summer camps with the same mission that defines it today: to shape a lifelong enjoyment of athletics through high quality sports education and skill enhancement.
Players, coaches, parents and others interested in the 2019 Nike Running Camps can visit http://www.ussportscamps.com/running or call 1-800-645-3226.