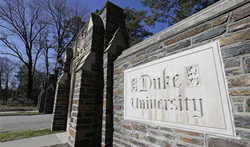 There is no better location for summer training than on the campus of Duke University.
SAN RAFAEL, Calif. (PRWEB) February 26, 2020
The Duke Nike Cross Country Camp and the Duke Nike Track & Field Camp sell out each year due to their outstanding training, program scheduling, top notch coaching, and the beauty of this prestigious university. Runners from all over the country attend, joining other athletes who share their love of these great sports.
Camp Director and Associate Head Coach Shawn Wilbourn says, "There is no better location for summer training than on the campus of Duke University. The Morris Williams Track & Field Stadium and the nearby Duke Forest trails offer the best of the best for our campers. Runners experience top notch coaching while having fun and making friends. Come join us!"
Campers stay in the dorms on campus, eat in the Duke dining hall and experience the life of a Duke student-athlete. Detailed instruction for track & field athletes includes specialized training in sprints (up to 400m), jumps, hurdles, throws and pole vault. XC and middle- distance runners train with Duke coaches and athletes, running right from campus on gravel and dirt trails in the famed Duke Forest. The camp is coed, overnight and day campers, ages 12-18. All ability levels are welcome, those with the desire to train smarter, work hard and to have fun.
Players, coaches, and parents interested in learning more can visit Nike Running Camps.
About US Sports Camps
US Sports Camps (USSC), headquartered in San Rafael, California, is America's largest sports camp network and the licensed operator of Nike Sports Camps. The company has offered summer camps since 1975 with the same mission that defines it today: to shape a lifelong enjoyment of athletics through high-quality sports education and skill enhancement.