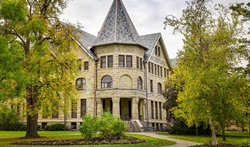 We are so happy to be hosting our Nike Running Camp for the eleventh year!
SAN RAFAEL, Calif. (PRWEB) February 06, 2020
Held on the beautiful campus in Oberlin, OH, campers stay in the dorms, train, and experience the life of a typical collegiate athlete. In order to prepare for the upcoming XC season, campers will train on some of same trails used by Oberlin's team. Nike Cross Country Camp at Oberlin College will run from July 19-23, 2020.
"We are so happy to be hosting our Nike Running Camp for the eleventh year! It's a credit to our partner at US Sports Camps and to our staff of how well be take such a diverse group of kids - from some of the best runners in the Midwest to kids who are just beginning in the sport - and teach them so much in the five days we have them. Running together, learning together, eating and playing together I am amazed each year how quickly and how deeply they become a team," says Ray Appenheimer, who is his in 16th season as the Director of Track and Field and Cross Country at Oberlin College. During his tenure, Appenheimer has built Oberlin's track and field and XC programs into perennial powers in the nation, region and the North Coast Athletic Conference.
The curriculum consists of educational lectures given by coaches on topics such as pre-season training, injury prevention, nutrition, strength training, and recovery. The camp is coed, open to any and all athletes, overnight and day campers, ages 10-18. All ability levels are invited, those with the desire to train smarter, work hard and to have fun.
Players, coaches, and parents interested in learning more can visit Nike Running Camps at http://www.ussportscamps.com/running or call 1-800-645-3226.
About US Sports Camps
US Sports Camps (USSC), headquartered in San Rafael, California, is America's largest sports camp network and the licensed operator of Nike Sports Camps. The company has offered summer camps since 1975 with the same mission that defines it today: to shape a lifelong enjoyment of athletics through high-quality sports education and skill enhancement.