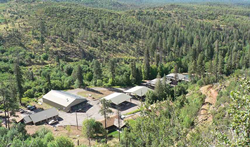 Arizona is one of the best places in the world to train and more and more professional track athletes come for training stints or are making it their home.
SAN RAFAEL, Calif. (PRWEB) March 06, 2020
Campers at the The Nike Arizona Elevate Cross Country Camp can escape the summer heat and enjoy five days of XC running with others who share the love of this great sport. Tonto Creek Camp, in Payson, is set on a relaxing, rustic 36-acre site, at an elevation of 6,000 feet and is located only ninety minutes from the Valley.
The camp offers outstanding training, high altitude runs, educational breakout sessions, a great camp setting, and fun evening rec activities.
Tonto Creek offers an abundance of natural amenities such as the Ponderosa Pines, Tonto Creek, and miles of running trails. The trails lead to a swimming hole and access to the Creek for post run soaks.
Grand Canyon University Head Coach, Sara Slattery, and Chandler High School Head Coach, Matt Lincoln, team together to bring the best of the best in XC training, planning and programming. Slattery says, "Arizona is one of the best places in the world to train and more and more professional track athletes come for training stints or are making it their home. Matt and I are excited to put together a camp here where high school athletes get to train at elevation and learn how to 'Elevate' their racing, training and nutrition and most importantly while having fun!" Says Lincoln, "Starting a summer running camp is something that Sara and I have talked about for a while now. But when the opportunity to partner with such a great sponsor and company presented itself, it just seemed like a perfect fit to make it a reality. We're so excited for the chance to bring our knowledge and love of running to the kids and to help them learn, grow, and develop a passion for this amazing sport!"
Slattery graduated from Colorado in 2003, was a four-time NCAA champion, 10-time Big 12 champion and a 10-time All-American as a student-athlete, setting three school records (indoor mile, indoor 3,000 meters and outdoor 5,000 meters). In 2016, Slattery was inducted into the Colorado Athletics Hall of Fame. She has been a professional distance runner since May 2005, competing in national and international competitions. Lincoln graduated from Penn State, where he set 3 school records and was named captain of the cross-country team 2 years and captain of the track and field team 1 year. Upon graduating, he ran professionally for 6 years and had 3rd, 4th and 5th place finishes at the Canadian Olympic Trials. Coach Lincoln has run sub 4 minutes for the mile and is a certified USATF Level 2 endurance coach.
The camp is coed, overnight, and for ages 12-18. All ability levels are welcome, the only requirement is the desire to train smart, work hard, and to have fun.
Athletes, coaches, and parents interested in learning more can visit Nike Running Camps.
About US Sports Camps
US Sports Camps (USSC), headquartered in San Rafael, California, is America's largest sports camp network and the licensed operator of Nike Sports Camps. The company has offered summer camps since 1975 with the same mission that defines it today: to shape a lifelong enjoyment of athletics through high-quality sports education and skill enhancement.