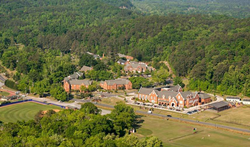 My number one goal for this year's camp is to teach & inspire you to become the best athlete that you can be.
SAN RAFAEL, Calif. (PRWEB) January 28, 2020
Kennesaw State Head Cross Country and Assistant T&F Coach Adam Bray directs this summer's Nike North Georgia Running Camp in Rome, Georgia. Held on the campus of the Darlington School, campers stay in the dorms on campus while training in cross country running or track and field events. Camp runs June 14-17, 2020.
"I am excited to announce to you that I am the new director of the North Georgia Running Camp at the Darlington School. Last year I had the privilege to work at camp and I am looking forward to being able return as director this coming summer. My number one goal for this year's camp is to teach & inspire you to become the best athlete that you can be. We all want to run faster, jump higher/further and throw further than ever before. We are going to teach you the secrets to maximize your potential through direct coaching from some of the best coaches/athletes in the Southeastern United States.," says Kennesaw's Coach Adam Bray.
The focus on camp is expert training, providing elite coaching, and unforgettable moments to the campers. Coach Bray and his staff have designed a comprehensive training camp program which focuses on track and field and/or cross country fundamentals, including drills, pacing, strength endurance, speed and core strengthening as well as the mental edge necessary for top athletic performances.
Open to any and all runners, ages 10-18 with the desire to train smarter, work hard and to have fun.
The 2020 camp is coed, all abilities. XC runners are grouped for their runs based on average pace and fitness. Track & field athletes train in their events of choice.
Players, coaches, and parents interested in learning more can visit Nike Running Camps at http://www.ussportscamps.com/running.
About US Sports Camps
US Sports Camps (USSC), headquartered in San Rafael, California, is America's largest sports camp network and the licensed operator of Nike Sports Camps. The company has offered summer camps since 1975 with the same mission that defines it today: to shape a lifelong enjoyment of athletics through high-quality sports education and skill enhancement.