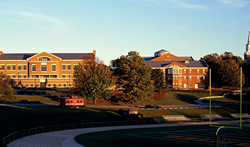 We are excited to have Steve and his coaching staff run a Nike Soccer Camp this year.
SAN RAFAEL, Calif. (PRWEB) February 25, 2020
The McDaniel College Men's Soccer Team staff runs the Nike Boys Soccer Camp at McDaniel College, directed by head coach Steve Corrieri. Camp is open to boys ages 11-18 and runs from Wednesday, July 15 to Saturday, July 18.
"We are excited to have Steve and his coaching staff run a Nike Soccer Camp this year." says Renee Chapman, VP of Nike Soccer Camps, "through his successful coaching career and playing days, Steve has all the tools to make this week a special part of summer for each camper."
Corrieri has been at the helm at McDaniel College for seven seasons and has led the team to its first playoff appearance in 12 years in 2017, and first playoff win since 2004. In his playing days he played for Carlisle United FC in the English Professional League from 1994-1996.
The camp is an Overnight Camp with the option of doing Extended Day (9AM-8:30PM). The goal of this camp is to stimulate a love for the game in young athletes. The players grow their skill set while really enjoying the sessions, getting to play with new players, and being coached by college experienced coaches.
Players, Coaches, and Parents interested in learning more can visit Nike Soccer Camps or call 1-800-645-3226.
About US Sports Camps
US Sports Camps (USSC), headquartered in San Rafael, California, is America's largest sports camp network and the licensed operator of Nike Sports Camps. The company has offered summer camps since 1975 with the same mission that defines it today: to shape a lifelong enjoyment of athletics through high-quality sports education and skill enhancement.