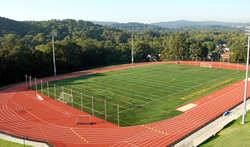 SAN RAFAEL, Calif. (PRWEB) February 06, 2020
The Nike Soccer Camp at Alvernia University is back for its fourth year. Campers between the ages of 9-18 years old get the opportunity to work with collegiate coaches and athletes. These camps are co-ed as well as inclusive of all different skill levels.
The camp will be hosted by Alvernia University's Head Men's Coach and all-time wins leader Casey Moore. Moore served as an assistant for four years before taking over as head coach in 2008. Through this period, he has obtained the highest winning percentage in the program's history. His focus is going to be on improving camper's soccer skills while providing a great experience.
"Campers are given the chance to see what it is like being a collegiate athlete," says Renee Chapman, VP of Nike Soccer Camps. "Coach Moore's success at Alvernia can be credited to his willingness to work with his players and find what suits them best. During camp he takes a similar approach to campers as he understands every player is different."
During this four-day camp campers focus is on maximizing their potential. The sessions always begin by working on the fundamentals. Exercises like decision making, finishing, and defending. At the end of each session campers have the chance to apply what they learned into competitive small sided and full field games.
Players, Coaches, and Parents interested in learning more can visit Nike Soccer Camps at http://www.ussportscamps.com/soccer or call 1-800-645-3226.
About US Sports Camps
US Sports Camps (USSC), headquartered in San Rafael, California, is America's largest sports camp network and the licensed operator of Nike Sports Camps. The company has offered summer camps since 1975 with the same mission that defines it today: to shape a lifelong enjoyment of athletics through high-quality sports education and skill enhancement.