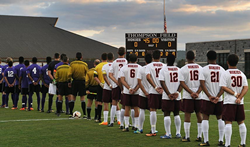 We strive to bring athletes top notch coaching to our camps, and Coach Briz is up there with the best.
SAN RAFAEL, Calif. (PRWEB) November 22, 2019
The Virginia Tech men's soccer team earned the 10th seed in the D1 NCAA tournament that starts with the first round on Thursday.
The Hokies are one of 16 teams that gets a first round buy and hosts a second round game on Sunday, November 24. They play the winner of New Hampshire and Fair Dickinson where they are favorited to make the next round, potentially squaring off with #7 Stanford the following weekend.
This is the Hokies fourth consecutive NCAA tournament, a record for the program. Despite having the countries second hardest schedule where 9 of the teams they have played over the course of the season are in the tournament, the Hokies finished the season with a 9-5-3 record.
Nike Soccer Camps is proud to partner with the Men's Virginia Tech Soccer Program. "We are so excited for the team and Coach Brizendine," states Renee Chapman, VP of US Sports Camps. "Coach Briz has been one of our top directors for years now, and it's great to see that his hard work has paid off this season. We strive to bring athletes top notch coaching to our camps, and Coach Briz is up there with the best."
The Nike Collegiate Soccer Experience at Virginia Tech 2020 camp dates are now open for registration. There are 3 weeks planned for the summer: June 24-27, July 16-18 & July 30-August 1. The first week is open to boys ages 10-18. The second two weeks are for boys ages 14-18 looking to be challenged and highly competitive, while being seen by top college coaches.
Players, coaches, and parents interested in learning more can visit Nike Soccer Camps at http://www.ussportscamps.com/soccer or call 1-800-645-3226
This camp is owned, controlled and operated by Mike Brizendine and US Sports Camps, Inc. The word "Hokies", or any other reference to Virginia Tech are by permission of the University, and do not indicate, express, or imply any fashion involvement of the University in the operation or control of the camp.
About US Sports Camps
US Sports Camps (USSC), headquartered in San Rafael, California, is the world's largest sports camp network and the licensed operator of Nike Sports Camps. The company has offered summer camps since 1975 with the same mission that defines it today: to shape a lifelong enjoyment of athletics through high quality sports education and skill enhancement.