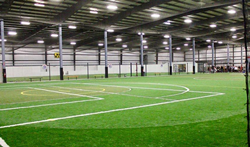 Coach Matteo brings the same energy and focus into coaching as he did playing. This camp is one players won't want to miss.
SAN RAFAEL, Calif. (PRWEB) March 16, 2020
Located in Pitman, New Jersey from July 20-23, campers at Nike Soccer Camp Total Turf Experience Complex train with Philadelphia Lone Star FC goalkeeper coach. A local sports star, Sean Matteo has soccer experience and knowledge that inspire campers to improve themselves and learn more about the beautiful game.
Sean Matteo, a native of Pitman, played soccer at Pitman High School from 2005-2009 where he led the Panthers in scoring his senior year and was named First Team Tri-county Conference. Coach Matteo then joined Rutgers University and changed his position to goalkeeper. It is there he earned American Athletic Conference All-Academic Team which led him to play for Phoenix FC in the United Soccer League of Pennsylvania. After his playing career Matteo went back to his roots coaching at Pitman High as Girls Head Coach, as well as coaching at Holy Spirit High and Buena High School. Most recently Coach Matteo has been seen on the sidelines as assistant coach for Absegami High School. His coaching career has taken him to the highest levels, as he is the goalkeeping coach for men's and women's teams at Philadelphia Lone Star FC.
Coach Matteo's desire and passion for the game has rewarded him with his success. His strong work ethic and ability to focus on his goals has led him to become the best soccer player and coach he can be.
Renee Chapman VP of Nike Soccer Camps, says "Coach Matteo brings the same energy and focus into coaching as he did playing. This camp is one players won't want to miss."
New Jersey has a wide range of talented soccer players all looking for ways to improve and become the best they can be. With a low staff to camper ratio and plenty of repetitions on the ball there is plenty of opportunity for players to develop. Every player leaves camp feeling better than when they started.
Players, Coaches, and Parents interested in learning more can visit Nike Soccer Camps or call 1-800-645-3226.
About US Sports Camps
US Sports Camps (USSC), headquartered in San Rafael, California, is America's largest sports camp network and the licensed operator of Nike Sports Camps. The company has offered summer camps since 1975 with the same mission that defines it today: to shape a lifelong enjoyment of athletics through high-quality sports education and skill enhancement.