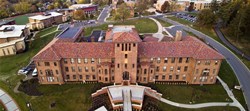 We're excited to bring a Nike Softball Camp to the Reading area this summer.
SAN RAFAEL, Calif. (PRWEB) March 05, 2020
Directing the Nike Softball Camp at Alvernia University will be Head Coach Wes Landrum, accompanied by his coaching staff. Landrum took over the Alvernia program in 2018 after 13 years at the helm of the Frostburg State University program.
This five-day camp, held in Reading, Pennsylvania, runs Monday, July 20th through Friday, July 24th, from 9 a.m. to 3 p.m. daily. Campers of all levels will have the opportunity to improve their hitting, fielding, throwing skills, and in-game situations. Every facet of the game will be covered with an emphasis on fundamentals to help players become valuable team members.
This camp is designed for players of all ability levels looking to engage in high intensity drills, game like scenarios, and quality training in a fun and positive environment. Campers are broken into groups with other players of similar age, abilities and goals.
"We're excited to bring a Nike Softball Camp to the Reading area this summer," says Josh Scriven, a manager with Nike Softball Camps. "With Coach Landrum and his coaching staff leading the girls through high quality softball exercises, this camp is sure to be a camper favorite that will boost the confidence and skill level of all its participants."
Players, coaches, and parents interested in this program can visit Nike Softball Camps can visit or call 1-800-645-3226.
About US Sports Camps
US Sports Camps (USSC), headquartered in San Rafael, California, is America's largest sports camp network and the licensed operator of Nike Sports Camps. The company has offered summer camps since 1975 with the same mission that defines it today: to shape a lifelong enjoyment of athletics through high quality sports education and skill enhancement.