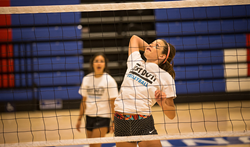 We are excited to bring a Nike Volleyball Camp to Fayetteville.
SAN RAFAEL, Calif. (PRWEB) January 24, 2019
The summer volleyball camp in Fayetteville will be added to the already extensive list of Nike Volleyball Camps throughout the United States.
This new day camp is set to run July 8-12 and is open to players of all abilities. The camp will be held at the Arkansas Athletes Outreach Complex and will be directed by Jessica Phelan, Head Volleyball Coach of Fayetteville High School, and Jenny Lingenfelter, Head Coach at Ozark Juniors Volleyball Club.
Combined, both Jenny and Jessica have over 25 years of coaching experience at the high school, club, and college level that they will be bringing to the Arkansas volleyball camp. Coach Jenny Lingenfelter is a former volunteer Assistant Coach at the University of Arkansas, and currently coaches the Ozark Juniors Volleyball Club, where her team won the Girls Junior National Championships in 2015. Coach Jessica Phelan currently coaches at Fayetteville High School, where her teams have made 13 straight state tournament appearances and won four state titles.
"We are excited to bring a Nike Volleyball Camp to Fayetteville," says Head Coach Jessica Phelan. "Our camp will focus on teaching the fundamentals of the game of volleyball and incorporating them into offensive and defensive team concepts. The last two days of camp will feature a four on four and six on six tournament."
The addition of a girls volleyball camp in Arkansas allows more players in the South to learn from elite coaches and improve their skills. At the Arkansas Athlete Outreach complex, nestled in Fayetteville, players will train on their 6 volleyball courts in all aspects of volleyball such as hitting, setting, and serving. Through a combination of drills, competitive play, and position specific training, players can work on developing as complete volleyball players.
Players, coaches, and parents interested in Nike Volleyball Camps can visit http://www.USSportscamps.com/volleyball/nike or call 1-800-645-3226.
About US Sports Camps
US Sports Camps (USSC), headquartered in San Rafael, California, is America's largest sports camp network and the licensed operator of Nike Sports Camps. The company has offered summer camps since 1975 with the same mission that defines it today: to shape a lifelong enjoyment of athletics through high quality sports education and skill enhancement.