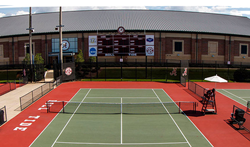 We're honored to be able to continue to run tennis programs at such an iconic college.
SAN RAFAEL, Calif. (PRWEB) February 05, 2020
A long-time location for summer camps, the University of Alabama is hosting two weeks of day and overnight camp led by the University's Head Men's and Women's Tennis Coaches, George Husack and Jenny Mainz.
Returning for the 17th year, the Nike Tennis Camp at the University of Alabama has provided hundreds of campers the necessary tools to take their tennis game to the next level. Individualized instruction from collegiate coaches coupled with supervised match play makes for a promising location for tennis players looking to fine-tune their skills and gain confidence before, during and after matches.
"We're honored to be able to continue to run tennis programs at such an iconic college," says Matt Kurlander, VP of Nike Tennis Camps. "The staff is constantly thinking of new ways to train, inspire and help individuals ultimately reach their tennis goals."
George Husack enters 2020 in his seventh year as the Head Men's Tennis Coach at the University of Alabama. Husack has made a point to instill a winning mentality with his team and has created a culture that not only inspires, but also encourages players to break out of their comfort zone. Most recently, in 2018, Husack led the Tide to the round of 16 in the NCAA Tournament after upsetting the No. 2 seed, Tulane.
Jenny Mainz is now in her 21st season as Head Coach of the Crimson Tide's Women's team. During her tenure, Mainz has taken the program to new heights and is the only coach in the program's history to take the Tide to six consecutive NCAA Championships. Recording a 0-21 record in her first year, Mainz has completely revamped the program and has turned it into one of the best in the country.
Nike Tennis Camps at the University of Alabama offer Day and Overnight camps for two sessions in 2020. Day Camp runs 8:30 a.m. – 4:30 p.m. and includes lunch and afternoon match play. Programs are geared towards girls and boys of all ability levels, ages 9-18.
Parents and campers interested in the Nike Tennis Camp at the University of Alabama can visit http://www.ussportscamps.com. For more information, please call 1-800-645-3226 or email tennis@ussportscamps.com.
About US Sports Camps
US Sports Camps (USSC), headquartered in San Rafael, California, is the world's largest sports camp network and the licensed operator of Nike Sports Camps. The company has offered summer camps since 1975 with the same mission that defines it today: to shape a lifelong enjoyment of athletics through high quality sports education and skill enhancement.