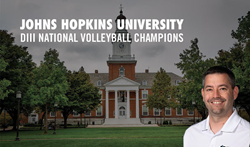 We are thrilled to hear that the Blue Jays won their first ever National Championship Title.
SAN RAFAEL, Calif. (PRWEB) December 06, 2019
The Johns Hopkins University volleyball team did the unthinkable and captured the Division III National Title while simultaneously finishing their season undefeated.
At the U.S Cellular Center in Cedar Rapids, Iowa, the Blue Jays took on the defending champions, Emory University. Emory University was no stranger to playing in the final four as they were on their fifth trip to the championships since 2010. Troy ensured his team to keep playing their game, and that is what they did.
The Blue Jays took Emory in three straight sets winning, 25-23, 25-22, 25-18. It appeared they were taking advantage of every opportunity given to them by Emory. In the last set the Blue Jays committed only one error and hit an even .500 allowing them to cruise their way to Division III Championship victory and a season record of 35-0.
Nike Volleyball Camps is a proud partner with the Blue Jay's Head Coach Matt Troy. "We are thrilled to hear that the Blue Jays won their first ever National Championship Title," says Siera Love, VP of Nike Volleyball Camps. "Matt Troy is an amazing coach and camp director, and to hear that his first season back with the Blue Jays resulted in an undefeated season is amazing. We can't wait to see him back in action during camp this summer!"
With a title under the Blue Jays belt, Troy and his staff will return back to the Goldfard Gymnasium this summer to run the Maryland Nike Volleyball Camp at Johns Hopkins University.
"It was an amazing season and I'm excited to take that energy and bring it to the camps," said Coach Troy. "Our campers will get to train using the same techniques and drills used by a championship team, which will be an invaluable experience for them."
Through various drill work and live-game play, players will learn from the national championship team and elevate their fundamentals. Camp is set to run July 24-26 and will offer an All Skills and Advanced program.
Parents, Coaches, and Players interested in this location can visit Nike Volleyball Camps at http://www.ussportscamps.com/volleyball or call 1-800-645-3226
The Maryland Nike Volleyball Camp has leased or rented facilities from the Johns Hopkins University. However, the Maryland Nike Volleyball Camp and any programs operated by US Sports Camps are not related to or affiliated with the Johns Hopkins University in any way. The Maryland Nike Volleyball Camp is an entirely separate legal entity with no connection to the Johns Hopkins University aside from the temporary use of facilities for the specified program.
About US Sports Camps
US Sports Camps (USSC), headquartered in San Rafael, California, is America's largest sports camp network and the licensed operator of Nike Sports Camps. The company has offered summer camps since 1975 with the same mission that defines it today: to shape a lifelong enjoyment of athletics through high quality sports education and skill enhancement.