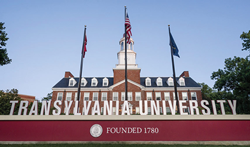 We are thrilled to have a coach like Amy join the Nike Volleyball Camps family.
SAN RAFAEL, Calif. (PRWEB) February 27, 2020
The Lexington volleyball camp will provide more athletes an opportunity to train in a fun and competitive environment with a collegiate staff. Players attending the Nike Volleyball Camp at Transylvania University will be able to choose from three different programs, All Skills, Serving, and Position Specialty, which are all designed to help them receive a comprehensive volleyball experience.
Directing these programs is Transylvania University Head Volleyball Coach, Amy Barmore, who recently finished her second season as head coach with the Pioneers. She has been with the team for six years, serving four as an assistant coach and now two as head coach. During her first season leading the program, she led the Pioneers to their first-ever appearance in the Heartland Collegiate Athletic Conference championship. Campers attending the camp will get to experience Barmore's training methods used by the current Transylvania University volleyball team.
"We are thrilled to have a coach like Amy join the Nike Volleyball Camps family," states Siera Love, National Manager of Nike Volleyball Camps. "Her high intensity and drive to help players improve in the sport they love are what will make this new camp great."
All of the new programs at the Kentucky volleyball camp will be open to girls, ages 8-18, of all ability levels. During the All Skills camp, players will experience various drills that work on all facets of the sport. In small groups, the Pioneers volleyball staff will help guide the campers through training sessions and provide them with feedback on how to improve.
The half-day Serving Clinic is designed to focus solely on serving the ball and learning various techniques as well as finding the serve that fits the player best. During the Position Specialty program, campers will get to work on their set position for the duration of the clinic and receive specialized training on the latest techniques used by collegiate level players.
These new camps are set to run from June 1-5th. The times of the camps will vary depending on the program chosen.
Players, coaches, and parents interested in camps can visit Nike Volleyball Camps or call 1-800-645-3226.
About US Sports Camps
US Sports Camps (USSC), headquartered in San Rafael, California, is America's largest sports camp network and the licensed operator of Nike Sports Camps. The company has offered summer camps since 1975 with the same mission that defines it today: to shape a lifelong enjoyment of athletics through high-quality sports education and skill enhancement.