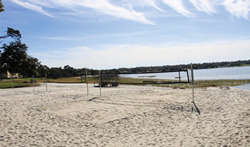 We are very excited to bring Gretchen into the US Sports Camps family.
SAN RAFAEL, Calif. (PRWEB) November 19, 2019
Nike Volleyball Camps has recently announced the addition of two beach clinics to their volleyball camp in Florida at Webber International University. Girls and boys will have the opportunity to train under the Women's Assistant Beach Volleyball Coach and Indoor Head Volleyball Coach, Gretchen Hand.
Hand was just recently brought into the fold for the Warriors' 2019 season but has over 20 years coaching at the high school, club, and collegiate level. Most recently, Hand spent two years coaching indoor and beach at Wilson College, and was the head volleyball coach at Fort Lauderdale High School. This will be her first Nike Volleyball Camp with US Sports Camps.
"We are very excited to bring Gretchen into the US Sports Camps family," says Siera Love, VP of Nike Volleyball Camps. "Her desire to build on the volleyball camp at Webber International University and reach more athletes is what we look for in every camp director."
The volleyball camp in Babson Park, Florida has been an indoor boys volleyball camp for the past two years, attracting players from all over the East Coast. The new winter clinics will now be for both boys and girls of all ability levels looking to improve their skills on the sand.
The one-day clinics are set to run December 14th and December 21st from 9:00am-4:00pm. Players can expect to learn first hand from Coach Hand and the Warriors volleyball staff and will cover the basic concepts of beach volleyball through the advanced techniques knowledgeable players are hoping to work on. As an all skills program, athletes will be taught the fundamentals of playing doubles on smaller courts and become well rounded in all areas of the game.
Players, Coaches, and Parents interested in Nike Volleyball Camps for the upcoming summer can visit http://www.ussportscamps.com/volleyball or call 1-800-645-3226.
About US Sports Camps
US Sports Camps (USSC), headquartered in San Rafael, California, is America's largest sports camp network and the licensed operator of Nike Sports Camps. The company has offered summer camps since 1975 with the same mission that defines it today: to shape a lifelong enjoyment of athletics through high quality sports education and skill enhancement.