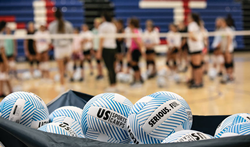 We are very excited to be adding more locations to our Nike Volleyball Camps network.
SAN RAFAEL, Calif. (PRWEB) March 18, 2020
This year there will be 26 new locations in over 21 different states across the nation. These new additions will allow more players from all areas of the US to improve their skills and become a better athlete.
While at camp, players will train with some of the best coaches in the country ranging from top universities to local high schools, and club volleyball teams. Each camp is uniquely designed to cover all facets of volleyball in a fun, safe, and competitive environment through various drills and game-play. Nike Volleyball Camps offers half, day, extended day, and overnight volleyball camps as well as programs ranging from All Skills to one-day Skill Clinics that cover passing, serving, or position work.
"We are very excited to be adding more locations to our Nike Volleyball Camps network," states Siera Love, VP of Nike Volleyball Camps. "All of the directors joining the US Sports Camps family are dedicated to bringing these plays top-notch instruction and have the desire to help them succeed in the sport."
The new volleyball camp locations are available in:
AR: Fort Smith, CA: Fresno, CO: Boulder, CT: Hartford, FL: St. Leo, GA: Atlanta, IL: Lake Forest, KY: Lexington, MA: Braintree, MN: Prior Lake, MO: Kansas City, NV: Incline Village, NY: New York City, Potsdam, OR: Beaverton, PA: Lancaster, Scranton, SC: North Charleston, TX: Buda, Dallas, El Paso, Houston UT: Orem, VA: Newport News, WI: Mequon, WY: Casper.
At each camp location, players can receive top-level instruction through a low camper to coach ratios, which will help them leave with a better understanding of the game. When arriving at camp, coaches will have an assessment period and from there they will divide the players into groups based on their ability level and age. This helps ensures that each camper has instruction that is appropriate for their skill and also challenges them to get better. Nike Volleyball Camp's ultimate goal is that each player leaves with a foundation they can build on after camp, new friends, and more confidence on the court.
Players, coaches, and parents interested in camps can visit Nike Volleyball Camps or call 1-800-645-3226.
About US Sports Camps
US Sports Camps (USSC), headquartered in San Rafael, California, is America's largest sports camp network and the licensed operator of Nike Sports Camps. The company has offered summer camps since 1975 with the same mission that defines it today: to shape a lifelong enjoyment of athletics through high-quality sports education and skill enhancement.