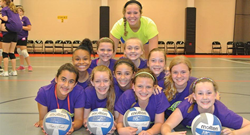 We are very honored to be continuing the camp legacy Slaats has built for the past three decades at Lake Forest College.
SAN RAFAEL, Calif. (PRWEB) January 16, 2020
The Nike Volleyball Camp at Lake Forest College offers a mix of fun activities and volleyball instruction to create a unique environment for girls. The Illinois volleyball camp will be hosted in the state-of-the-art Lake Forest College Sports & Recreation Center that features a café, indoor swimming pool, as well as gymnasiums.
While this will be the first Nike Volleyball Camp, this will not be the first volleyball camp at Lake Forest College. This camp was previously known as the One Step Close Volleyball Camp and has been running for over 28 years with the VP for Career Advancement and Athletics, Jackie Slaats, at the helm of the program. With the transition to a Nike Volleyball Camp, Slaats will hand the director role over to the Women's Head Volleyball Coach, Katie Rueffer.
"We are very honored to be continuing the camp legacy Slaats has built for the past three decades at Lake Forest College," exclaims Siera Love, VP of Nike Volleyball Camps. "We know Katie will bring the same dedication of teaching young girls the sport of volleyball to the program, and we will continue to maintain the primary goal of leaving camp a better player."
The camp will continue to offer girls a chance to stay overnight in the Lake Forest College dorms or attend as a commuter, while also receiving meals in the campus dining hall. During training hours players will work on all aspects of volleyball to ensure they receive the proper training to help them improve. Through a combination of stations, contests, team practices, and games, players will develop an understanding and appreciation of teamwork and basic team concepts.
Fun activities are also in store for the Nike volleyball campers. After each evening training session, girls are offered the opportunity to swim in the indoor recreational pool. On Wednesday, there will be a Camp "FUN" Night and on the last day of camp, a special Breakfast of Champions will take place in the Sports Center for all campers to attend. During the end of camp ceremonies, players will receive a personal evaluation card from their team coach as well as a special commemorative camp group photo.
Players, Coaches, and Parents interested in the program can visit Nike Volleyball Camps at http://www.ussportscamps.com/volleyball or call 1-800-645-3226
About US Sports Camps
US Sports Camps (USSC), headquartered in San Rafael, California, is America's largest sports camp network and the licensed operator of Nike Sports Camps. The company has offered summer camps since 1975 with the same mission that defines it today: to shape a lifelong enjoyment of athletics through high-quality sports education and skill enhancement.