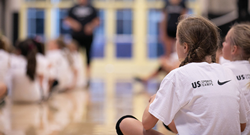 This was Sophia's first introduction to the sport, and it was absolutely perfect.
SAN RAFAEL, Calif. (PRWEB) January 22, 2020
Last summer was the first year running Nike Volleyball Camp at Champions Hall, a state-of-the-art facility that proved to be very popular, attracting over 50 campers for the one session of camp offered. Starting this summer, there will be two weeks of an All Skills programs and two serving clinics offered in June and July.
Long-time camp director, Stephen McCarthy, is set to run all of the camp sessions. McCarthy directed last summer's successful program, helping players of all ability levels work on the fundamentals through fun instruction.
When asked about her daughter's first volleyball camp experience, Tim C. exclaimed, "This was Sophia's first introduction to the sport, and it was absolutely perfect. She had a great time and mentioned that the staff was so understanding and helpful."
The new additions will give more players, like Sophia, an opportunity to work on volleyball fundamentals in a positive and encouraging environment. During the All Skills program, campers will train with their fellow athletes on all aspects of passing, hitting, setting, and blocking. Here they will get a break down of the mechanics through various drills and competitive play. The half-day serving clinic will focus solely on the techniques and tactics of serving. Players new to the sport will learn the basic fundamentals of serving, while more advanced players may focus on float jump, and topspin serves.
These volleyball programs are designed to be attending one after the other, with the All Skills running Monday-Thursday, and the half-day Serving Clinic running Friday. This is designed to give players the opportunity to maximize their training time on the court.
Players, Coaches, and Parents interested in the program can visit Nike Volleyball Camps at http://www.ussportscamps.com/volleyball or call 1-800-645-3226.
About US Sports Camps
US Sports Camps (USSC), headquartered in San Rafael, California, is America's largest sports camp network and the licensed operator of Nike Sports Camps. The company has offered summer camps since 1975 with the same mission that defines it today: to shape a lifelong enjoyment of athletics through high-quality sports education and skill enhancement.