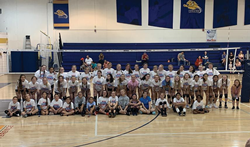 Chrissy is an excellent coach, and we wanted to give players more opportunities to work directly with her and her staff.
SAN RAFAEL, Calif. (PRWEB) November 04, 2019
This past summer was an exciting year for the Florida volleyball camp. With over 100 campers in attendance during two sold out camp sessions, this location proved to be a hot spot for volleyball players looking to enhance their skills.
When asked about her daughter's experience, Jeresse R. exclaimed, "Kendrick has been playing for a few years, and attended many different types of summer camps. She came back from camp at Warner with tons of excitement and was feeling more comfortable on the court. I can't say thank you enough!"
Rebecca P. a parent of a 2019 camper, was asked about the coaching staff and said "She really liked the encouragement by the coaches and the way they were able to break down and explain how to do things properly."
In response to the huge success from the past summer, Siera Love, VP of Nike Volleyball Camps, found it important to add two additional sessions for more advanced players. "We are very excited to be offering new position clinics in the spring," Love stated. "Chrissy is an excellent coach, and we wanted to give players more opportunities to work directly with her and her staff."
The new position clinic will be offered on two different days. Each clinic will be geared towards players ages 13-18, who have played competitively for about 2-3 years. The first clinic will run on February 15th and is designed for hitters, while the second session will run on March 14th and is designed setters and defensive specialists/liberos.
Players will focus on their position for the duration of the clinic and receive specialized training on the latest techniques from Moskovits and her coaching staff. Players will also be offered a "Recruiting and College Life Q&A Session" during rest time. Here players will be able to ask the Warner volleyball staff and current players questions pertaining to the recruiting process or what life is like as a collegiate athlete.
Players, Coaches, and Parents interested in Nike Volleyball Camps for the upcoming summer can visit http://www.ussportscamps.com/volleyball or call 1-800-645-3226.
About US Sports Camps
US Sports Camps (USSC), headquartered in San Rafael, California, is America's largest sports camp network and the licensed operator of Nike Sports Camps. The company has offered summer camps since 1975 with the same mission that defines it today: to shape a lifelong enjoyment of athletics through high quality sports education and skill enhancement.