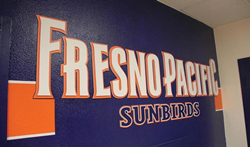 We are thrilled to be offering a new location with Shasta.
SAN RAFAEL, Calif. (PRWEB) March 17, 2020
The new Nike Volleyball Camp at Fresno Pacific University now gives players from the Central Valley an opportunity to improve their skills during the offseason. Players will be offered various programs ranging from beginner level to the college prospect level, all of which are designed to cater to the athlete's needs. Directing these programs will be the FPU Head Volleyball Coach, Shasta Millhollin.
This will not be Millhollin's first Nike Volleyball Camp as she previously ran the Nike Volleyball Camp at William Jessup and was Head Coach for many years before moving to Fresno Pacific University. During her time at William Jessup, she helped over 100 girls each camp season improve their fundamentals.
"We are thrilled to be offering a new location with Shasta," exclaimed Siera Love, VP of Nike Volleyball Camps. "She always brought enthusiasm and fun to the camp at William Jessup, and we are excited to bring her energy to more players this summer!"
The new volleyball camp in Fresno will offer a variety of camp programs for both boys and girls ages 9-18. A Baby Birds program will be geared towards the younger age players and will cover the basics of volleyball. Players looking to get their foot in the sport can expect to learn the fundamentals and techniques of volleyball. An All Skills program will also be offered this summer and will be geared towards players of all ability levels. Just like the Baby Birds program, all aspects of volleyball will be covered, however, players can expect to learn more advanced techniques and drills used by the Sunbirds' volleyball team.
This Fresno volleyball camp will also offer a one-day Prospect camp. Girls, ages 14-18, will experience a more intense training program. The program is designed for the competitive player looking to be challenged and get a taste of playing at the college level.
Players, coaches, and parents interested in camps can visit Nike Volleyball Camps or call 1-800-645-3226.
About US Sports Camps
US Sports Camps (USSC), headquartered in San Rafael, California, is America's largest sports camp network and the licensed operator of Nike Sports Camps. The company has offered summer camps since 1975 with the same mission that defines it today: to shape a lifelong enjoyment of athletics through high-quality sports education and skill enhancement.