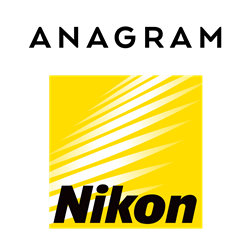 "The partnership between Nikon Optical and Anagram is driven by a shared goal: To give independent eye care providers the tools and materials they need to grow their practices with freedom of choice," Jeremy Bluvol, CEO and cofounder of Anagram
SAN FRANCISCO (PRWEB) November 08, 2021
Nikon Optical USA Inc. and Anagram, a software suite for independent Eye Care Professionals (iECPS), are announcing a partnership to provide patients rebates on Nikon Lenswear through Anagram Prosper. Participating ECPs will enjoy access to special wholesale pricing on Nikon Lenswear and patient-facing rebates sent through the Anagram platform.
"The partnership between Nikon Optical and Anagram is driven by a shared goal: To give independent eye care providers the tools and materials they need to grow their practices with freedom of choice," Jeremy Bluvol, CEO and cofounder of Anagram, explained.
Prosper is a new take on rebates. iECPs use it to generate compelling cash-back rewards on independent eyewear in their opticals. Rebates are initiated in the Anagram app; Prosper sends the rebates to patients before they even leave the optical. Anagram and Nikon Lenswear have teamed up to create a delightful vision experience with unique expertise in high-precision optics.
Through this new partnership, the Anagram Prosper program allows providers with Nikon Optical accounts to offer cash back rebates directly to patients who purchase Nikon Lenswear lenses. From photography to optical lenses, Nikon has developed a long and proud expertise in high precision optics. Combining Japanese craftsmanship with over a century of innovation, Nikon's mission is to offer both unmatched quality of vision and durability. Nikon Optical USA Inc. has established itself as the perfect partner for iECPs with a streamlined product offering coupled with a brand that appeals to high achievers and premium consumers who share a passion for details and strive to think forward.
"Beyond an iconic brand name, Nikon is a precision optical company that has been ranked amongst the most respected in the world. Over the years Nikon Optical US has established itself as the perfect partner to help create future value by empowering all iECPs to grow and adapt to an ever changing market" said Everest Pandya, Director of Business Development for Nikon Optical US. "Anagram's powerful mission statement built on price transparency, supporting private pay practices, and moving vision care forward completely aligns with Nikon Optical's goal to allow iECPs to operate with no compromises. We're very excited about our partnership, as it is the coming together of two organizations with the ultimate goal to foster sustainable growth for all iECPs."
About Anagram:
Anagram was founded in 2014. Anagram offers independent eye care professionals tools to help them grow their practices without outside interference or constraints. This includes Prosper, an instant rebate program built on wholesale pricing deals, and Access, the only out-of-network claims and billing software for eye care providers. As of 2021, Anagram has raised $18.5M, including $9.1M in its latest funding round, and has helped 2,000 eye care practices generate over $200M in cash pay business.
About Nikon:
Nikon, whose name is synonymous with "the world's finest lenses", has been providing millions of people across the world and beyond, with a sharper point of view through the most trusted and sought-after optical products for over 100 years.
Nikon is a leader in ophthalmic lens technology. Nikon holds claim to a series of firsts; High-index 1.74 material, the first clear lens that filters blue lights, the first customized single vision lens to name a few. Nikon continues to strive to be a leader in technological advancement in the ophthalmic lens industry, with the development of advanced digital lens designs and innovative coatings.