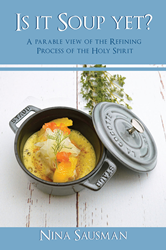 "Remember certain things (debris) are dealt with (skimmed off) soon after our rebirth. The Holy Spirit cleanses us with the washing of the Word, and it does, but there are other things that take more than reading and studying the Word. It comes to what we do with what we read and study."
CLEVELAND (PRWEB) January 17, 2020
Is It Soup Yet? A Parable View of the Refining of the Holy Spirit presents Nina Sausman's approach to refining one's spiritual well-being. She compares it to the recipe for an all-natural chicken noodle soup, one she learned from her grandmother when she was a child. Each step and every ingredient used represents the Holy Spirit's active involvement in preparing people's hearts in order for them to learn, grow, and be more like Jesus as they endeavor to fulfill their purpose in the divine plan.
In the author's soup recipe, the meat being cooked represents man, and the water that cleans the meat represents the Holy Spirit. While this recipe helps prepare people in accepting Jesus into their hearts, applying God's teachings and letting Him into their lives is entirely their own. "Remember certain things (debris) are dealt with (skimmed off) soon after our rebirth. The Holy Spirit cleanses us with the washing of the Word, and it does, but there are other things that take more than reading and studying the Word. It comes to what we do with what we read and study."
God gave man free will and agency, and everyone has the choice to do what they want with these gifts. However, free will might mean that a person chooses the values of the world over that of the Lord. That's why perseverance is essential when trying to emulate Jesus—many trials will come, but overcoming them strengthens a person's faith and changes them for the better. Also, God's divine plan will ultimately come to fruition; He only asks His people to have faith in Him.
Values such as these are not easy to maintain in today's fast-paced society, so Christ's followers must remain "properly salted" in order to keep others thirsting for Him and hinder the decay of the world. Christians can let the Holy Spirit work through them, and they eventually bear fruit. With love, joy, peace, patience, kindness, goodness, faithfulness, gentleness, and self-control, they can be a blessing to their friends and loved ones and inspire them to be the same for others, strangers and enemies included.
Like the water that serves as the soup's base, the Holy Spirit is where man must make preparations before starting their Christian journey. The process is slow and tedious, but when done right, it creates a flavorful and aromatic soup that enriches everyone that consumes it. "We should go forth into each day determined to walk by the Spirit…. We have a choice every day to either live according to the spirit or the flesh. It's only when we live under the guidance of the Holy Spirit and in obedience to the Word of God that we will truly have godly flavor."
A Catholic-raised native of Youngstown, Ohio, Nina Sausman was reborn as a believer in Christ during the '70s. Decades later, she continues to honor the Lord through interpretive dance and conducts workshops to teach groups who wish to learn more creative means of worshiping God. When she isn't spending time with her grandchildren and great-grandchildren, she actively participates in activities organized by the Christian Art Players (CAP), from acting in their latest production to helping out behind the scenes. Despite her full plate, she makes time to teach His Word to the youth, mentor the women in her local church, and speak at seminars and retreats.