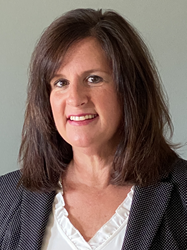 Maria provides a wealth of experience and knowledge that will allow us to continue to scale our successful divisions while ensuring the well-being of our employees
WOODBRIDGE, N.J. (PRWEB) October 09, 2020
NIP Group (http://www.NIPGroup.com), a market leader in the insurance program business located in Woodbridge, NJ, is proud to announce the addition of Maria Hurley as Senior Vice President, People to lead their human resources efforts, continuing their successful HR strategies and leading transformation initiatives to enable long-term growth.
In this role, Hurley will be responsible for driving change as the strategic human resources leader for NIP Group. With a focus on serving as the leader for all people and HR programs, Maria will enhance organizational and cultural development, talent management, compensation management, and HR policies and compliance.
"Maria provides a wealth of experience and knowledge that will allow us to continue to scale our successful divisions while ensuring the well-being of our employees," states David Springer, President of NIP Group. "With Maria's addition to our senior leadership team, we are extremely excited for a bright future that will enable us to reach new heights, while continuing to foster a positive work environment for our NIP Group family."
A results-oriented human resources leader with over 20 years of experience developing and implementing effective HR strategies, Maria brings a tremendous amount of Human Resources experience. She prides herself on being a motivational team leader with an exemplary record of driving successful growth and reorganization initiatives. She earned her undergraduate degree in Human Resources and Finance from Salve Regina University and completed a Strategic HR Management Program at Harvard Business School.
Prior to joining, Hurley served as a Global Human Resources Talent Advisor and Director at Willis Towers Watson where she navigated a complex, global organization to implement organized, consistent and effective human resources initiatives to support business strategies. Maria is no stranger to insurance and financial services. Earlier in her career, she held various strategic Human Resources leadership roles at Markel Corporation, Merrill Lynch, and Morgan Stanley.
About NIP Group
NIP Group is a market-leading specialty insurance program manager that designs unique commercial insurance solutions and risk services for more than 25 niche industries. Working with more than 5,500 broker partners, we help clients gain control over their costs, secure customized coverage and create safer work environments. NIP Group has more than 150 employees headquartered in Woodbridge, NJ and draws upon the expertise of highly talented business partners throughout the country and abroad to meet the needs of its clients.
Contact:
John Bertoli
SVP, Marketing
jbertoli@nipgroup.com
###