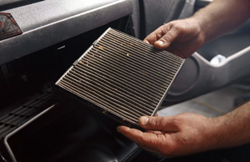 WAUKESHA, Wisc. (PRWEB) January 17, 2023
There are numerous filtration systems inside a vehicle that separate dust and dirt from entering a vehicle's interior component. The cabin filter is one among them that purifies the interior air quality. Over time the cabin filter gets polluted with mold, mildew, fungi and other organisms, causing a foul smell inside the vehicle. Dirty cabin filters can lead to breathing problems for the occupants. Also, a clogged cabin filter stresses the air conditioning system and may lead to expensive repairs. 
At Boucher Nissan of Waukesha in Waukesha, Wisconsin, the dealership provides a complete air duct service and cabin filter replacement for $79.95. Customers have to note that the coupon from the dealership's official website must be presented at the time of servicing and the offer cannot be included with other offers. The offer is valid till March 31, 2023. 
Nissan customers who are interested in taking advantage of this offer may schedule a service online. The dealership also provides other routine maintenance and repairs with genuine OEM parts. Drivers can contact Boucher Nissan of Waukesha by dialing 262-254-4003 or by visiting 1451 E. Moreland Boulevard in Waukesha, Wisconsin.