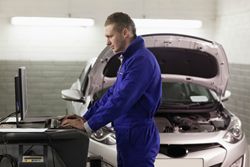 PICAYUNE, Miss. (PRWEB) October 24, 2018
Drivers that have gone a long time without getting service for their car may be interested to hear about the new service specials and discounts being offered by one Picayune dealership. Nissan of Picayune recently started offering new specials on a variety of services at its service center for drivers looking to keep their vehicle in top shape and get ready for the coming winter months.
The newest discount that drivers can get at Nissan of Picayune is called the "Fall Special." For just $189.00 (on most models), drivers can get an oil change, tire rotation, 4-wheel alignment and wiper blade replacement. But, that's not the only special being offered by Nissan of Picayune.
For a limited time, drivers can visit Nissan of Picayune and get a free multi-point inspection. The mechanics of Nissan of Picayune's service center will check the fluid levels, steering, wiper blades, exhaust, undercarriage and belts and hoses of the vehicle at no charge.
Nissan of Picayune hopes that these specials will help motivate drivers to stop by the service center to make sure that their vehicle is working properly. Especially with the winter months coming soon, along with hazardous weather, drivers should always be sure that their vehicle is in working order so that no matter the weather and conditions, they can have peace of mind while driving. Those interested can check out all the service specials currently offered by Nissan of Picayune, here.
Drivers are encouraged, if they have any questions about the service specials, to contact the staff of Nissan of Picayune through the website or by calling them directly at 601-300-6523. Those interested can also schedule a service appointment online, here. The dealership is located at 239 Frontage Road, Picayune.