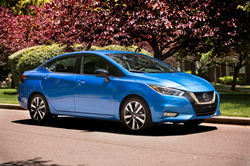 VICTORIA, Texas (PRWEB) January 26, 2021
Nissan of Victoria is offering recent college graduates the opportunity to take advantage of their college graduate program. Eligible students who can use this special offer must have graduated within the past 24 months or have a written confirmation that they will be graduating within the next 6 months. Eligible students must also present proof of current or future employment to take advantage of this deal.
With the college graduate program, students have the possibility to save big money when it comes time to find a new vehicle. Graduates with proof of graduation and who are employed/about to be employed can save up to $1,000 of Nissan cashback on top of already existing offers. Even if Nissan of Victoria has other specials going on, eligible students can still use the graduate program rewards on top of that as well.
The process of using this promotion is simple. First, students visit Nissan of Victoria and search for their dream car in their wide variety of inventory. Next, students choose the vehicle they want to take off the lot and present their proof of graduation/upcoming graduation and proof of work/future work. Lastly, students drive off the lot knowing they just saved a boatload of money.
More information can be found about the college graduate program on the Nissan of Victoria site, which can be found by following this URL https://www.nissanofvictoria.com/ or by visiting Nissan of Victoria in person today. If drivers have any questions about this program, and how it works, they can reach out to a Nissan of Victoria representative by calling 361-578-5000.