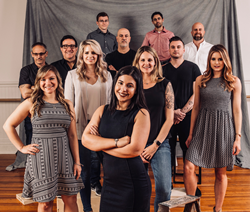 2020 was the most dramatic year in our history. We're excited to see what comes next!
RED BANK, N.J. (PRWEB) March 18, 2021
Splendor, a renowned NJ-based design, branding, website design, and marketing agency, recently celebrated its 21st year in business — and its exponential growth.
As Adam Taylor, the firm's Owner & CEO, recalls, "2020 started off as a very promising year. We had just turned 20 years old as a company and finished up a phenomenal 2019 with record-smashing growth of over 60%."
Splendor had recently finished defining its big picture goals for 2020 and beyond when things took an interesting turn. The global pandemic pitched an unforeseen curveball to Splendor, its clients, and of course, the rest of the world at large.
"We knew we'd have to work together creatively to find ways to adapt to whatever the quarantine threw our way. We didn't know what to expect, but we knew we needed to be flexible, accommodating and resourceful," said Taylor.
In early March, Splendor migrated its collaborative office environment to a work-from-home situation, and the team has been working remotely ever since.
Splendor has always prided itself on proactive, relentless communication with clients – and internally. Taylor adds, "We were lucky that we had these protocols in place when we really needed them. That made a huge difference in enabling us to be so successful working remotely – right from day one."
Splendor's growth trajectory has continued to climb. The well-managed growth has safeguarded efficiencies, as well as preserved internal and external collaboration.
One key to this growth was the implementation of Cloud-based Project Management tools such as Asana and Slack. These tools were deployed and adopted quickly, which help streamline and fuel the team's day-to-day successes.
Through it all, the agency continued to find ways to push forward, attract new business and build strong, new partnerships. In particular, Splendor's social media department exploded and garnered powerful results, resulting in significant revenue growth.
As a result, Taylor promoted Splendor's Director of Project Management & Social Media, Alexandra Venier, to the role of Vice President.
Taylor notes, "Promoting Alex to the agency's Vice President was something myself, Chris Brignola, and Jay Sharfstein, our Executive Creative Directors, had been discussing for quite a while. With business booming and new goals set in place, the time was right to elevate Alex's role. Her superb management and leadership skills are felt daily, both internally and by our clients. Her dedication and demeanor have been critical to the growth of our business and our team."
As revenues and activity rose, the agency also made several other significant and strategic hires to help tend to the growing needs of the business. Recent hires include Olivia Morrissey (Project Coordinator), Diego Zubieta (Designer), Julie Abrams (Designer), and Skylar Bowen (Account Manager).
As the team was growing, so too was Splendor's client roster. With several large business wins, Splendor has begun working with brands such as Copper Fit, Gordon International, and Brookdale Community College, and is in the midst of developing, marketing and launching an exciting app for iOS and Android.
Splendor has continued making its presence felt in the Commercial Real Estate space assisting on the revamped Gateway Center in Newark, the new M Station in Morristown, One Giralda Farms in Madison, and many others.
Throughout 2020 and early 2021, the team stayed connected via weekly Happy Hour Zoom calls and distanced, monthly "Pick It Up" events - a garbage cleanup effort started by Splendor in Red Bank.
As a result of their philanthropic efforts, Splendor was named a Corporate Citizen Finalist in NJBIZ, as well as CIANJ/COMMERCE Magazine's Companies That Care program.
Professionally, the team was also recognized for outstanding service and results for their clients. All of Splendor's combined efforts culminated in 2021 when the firm was recognized by NJBIZ as NJ's Top Advertising Agency in NJBIZ. Splendor also won 6 GDUSA Graphic Design USA awards in the design, marketing, and branding categories.
Another highlight of 2020 was Taylor's recognition by GDUSA as one of the publication's "People to Watch," a program that showcases rising stars in the creative services field.
The agency has some exciting prospects on the horizon. First is an office renovation and expansion to accommodate the new talent brought in late last year and in early 2021.
Taylor concludes, "While we recently turned 21 – this will actually be our 10th year in our Red Bank offices. We've taken over more space in the building and are excited to come back to a newly designed Splendor interior."
"It's been an incredible year on so many levels. From our big anniversary, to the transition to work-from-home, to sizable new business wins, to new hires and promotions, to record setting growth, to some amazing recognition. I can easily say 2020 was the most dramatic year in our history. We're excited to see what comes next!"
About Splendor
Splendor is a full-service design, branding and creative agency that combines big-picture strategic thinking with award-winning creativity to solve real-world business problems. We create work that works. To learn more about Splendor and to discuss marketing efforts backed by the agency's creative team, head to https://splendordesign.com.