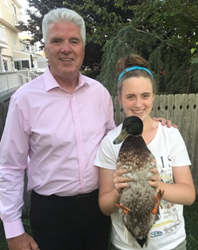 BRIGANTINE BEACH, N.J. (PRWEB) August 22, 2018
The NJCCC awarded its annual "Vision Award" to Mayor Philip J. Guenther for over two decades of innovative programs, championing environmental education in town and as superintendent of the Atlantic County Vocational School District.
Guenther, mayor since 1992, considers it "a great honor" to receive recognition for his environmental advocacy. But, he is also "proud to be upstaged" by his 14-year-old niece, Megan Baldwin and her pet mallard "Lucy." They earned NJCCC's 2018 "Excellence in Education" Award.
"Megan is a wonderful and committed young lady," said Guenther, who is not seeking re-election after 26 years as mayor.
Megan raised Lucy from a hatchling and brings her pet duck to environmental fairs, local farmers markets and beach cleanups. Megan wants to educate youngsters and their parents about the importance of keeping waterways and beaches free from trash and other harmful contaminants.
"Megan Baldwin found a fun, creative way to engage her community and to spread New Jersey Clean Communities' message," said NJCCC Executive Director Sandy Huber. "Her uncle, Mayor Guenther, has for many years, been a tireless advocate for the environment in his town and beyond."
At City Hall, Mayor Guenther has sponsored beach and bay litter cleanups and created awards to inspire volunteerism. As superintendent, he ensures that vo-tech students participate in NJCCC's annual student exchanges.
"It's important to get students involved," Guenther said. "These exchanges allow our students to interact with others from across New Jersey and gives them a broad view of our state's environmental issues."
As for Megan, she says she "came up with an entire presentation about the life cycle of ducks, the local environment and the harm that trash and pollution can have on both."
A recent Brigantine North Middle School graduate, Megan plans to continue her activism at Holy Spirit High School this fall.
"Megan and her duck have become local celebrities," said Joe Campitelli, the city's Clean Communities chairman. "We host four large annual cleanups, and participate in other events. People repeatedly ask: 'Will the duck be there?' It's a great way to spread our message."
"People want their children's pictures taken with Lucy. Meanwhile, Megan explains why it's important to keep our waterways and beaches free of pollutants, like plastics, lawn fertilizer and other household chemicals," Campitelli said.
Megan, who hopes to become a marine biologist, credits her uncle and parents for her activism and her concern for the environment. Her father, Bill, is the city's senior fire official. Her mother, Maureen, teaches math, science and technology at Brigantine Elementary School.