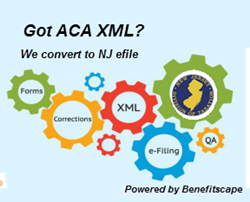 "Our roots are in state-mandated reporting and e-filing. As early as 2004 we were filing healthcare data while working with the Massachusetts Connector." Says Kim Phillips, President and CEO "We approach state filing not as an add on to ACA, but as a fully resourced core service."
NATICK, Mass. (PRWEB) February 28, 2020
BenefitScape, a leader in ACA compliance reporting and e-filing solutions, is an authorized e-filer to the state of New Jersey in connection with new legislation called the New Jersey Health Insurance Market Preservation Act (NJHIMPA).
This legislation requires that every New Jersey resident must either obtain health insurance, have a valid exemption, or pay a penalty called the Shared Responsibility Payment (SRP).
Any employer, who provides healthcare, minimum essential coverage (MEC), to a New Jersey resident, is required by this legislation to file electronically (no paper filings are permitted) a verification of this healthcare coverage to the statae of New Jersey. This requirement applies to both in-state and out-of-state businesses and is in addition to an employers' federal reporting responsibilities established by the Affordable Care Act's Employer Mandate.
As an authorized e-filer to the NJ DORES system, BenefitScape can e-file the required information for an employer to help them fulfill their responsibility to provide healthcare verification to New Jersey.
Employers have until March 31, 2020, to comply with the NJHIMPA for Tax Year 2019. Employers can file via the same system they use to file their employees' W-2s or they can seek the assistance of an authorized e-filer.
"As one of the early developers working in 2004 with the Massachusetts Connector, our roots were planted in state-mandated reporting and e-filing. Says Kim Phillips, President and CEO "We don't approach state filing as an "added on" service but with the recognition that accuracy and reliability are essential, to prevent any unnecessary fines and penalties."
Filing requirements follow the Federal ACA model
In general, employers need to submit the same 1095-B and1095-C Forms used by the IRS to verify an employers' compliance with federal ACA requirements. While New Jersey will accept the entire federal filing, best practice will be to only send those Forms and information relating to New Jersey residents, other information should be excluded.
How BenefitScape performs this e-filing
BenefitScape is an authorized e-filer to both the federal IRS AIR system and to New Jersey. We are expert at handling the federal XML file format and can take the filing that was done to the federal government and repurpose it for New Jersey filing. It's that simple. Have only paper Form 1095..we will convert to XML. Here is a link that explains our process in greater detail.
BenefitScape has been filing healthcare mandate related information since 2005 in Massachusetts. We are experts at handling these filings in a secure reliable manner. We serve hundreds of clients on the federal level and have been preparing for the state-mandated filings that are now required in Massachusetts, New Jersey, District of Columbia and others .Learn More About State Mandates
About BenefitScape
BenefitScape Is the Leading US Employee Benefits Company to Focus Exclusively on Employer Compliance under the Affordable Care Act (ACA) and derivative filings in connection with state-level legislation. This Singular Focus and Our Dedicated ACATech© Platform Enable Us to Free Employers, with Cost-Saving Efficiency, from All the Pain, Penalty Risks, and Resource Burdens of ACA Compliance.
From Performing an ACA Compliance Assessment, to Tracking and Calculating Eligibility, through IRS Coding and Employee Communications to the Final IRS E-Filing, We Work Seamlessly with Any Client Setup, All Data Formats, and at Any Stage or throughout the Compliance Process. And, We Don't Stop When Reporting Is Complete. We Assist in Necessary Corrections, Any IRS 226J Responses, and Establishing Go Forward Risk Mitigation Plans.
BenefitScape aspires to the highest level of transparency, partnership, community service and is women owned and operated.