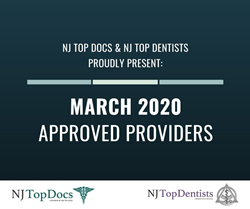 SCOTCH PLAINS, N.J. (PRWEB) April 17, 2020
NJ Top Docs & NJ Top Dentists proudly present the following reviewed and approved providers from March 2020. The below list only contains those providers who were approved between March 1, 2020 - March 31, 2020.
For a complete list of all reviewed and approved providers, please view our Healthy Living Magazine directory.
NJ TOP DOCS INCLUDE:
BREAST SURGERY
Hunterdon County

CARDIOLOGY
Essex County

CARDIOTHORACIC SURGERY
Union County

CHIROPRACTIC CARE
Atlantic County

Dr. Karen Callaghan
Dr. Anthony Holvick
Dr. Thomas Keating
Dr. Jason M. Pagliarini
Bergen County

Dr. Mohammed Abtahi
Dr. Bradford Butler
ENDOCRINOLOGY
Somerset County

FAMILY PRACTICE
Essex County

Dr. Jose C. Flores
Dr. George Miller Jr.
Monmouth County

GASTROENTEROLOGY
Monmouth County

Union County

INTERNAL MEDICINE
Middlesex County

Monmouth County

Ocean County

Dr. Howard Lebowitz
Dr. Prabhat Sinha
Union County

NEPHROLOGY
Atlantic County

Dr. Nitin Behl
Dr. Robert Matthews
Bergen County

OPHTHALMOLOGY
Bergen County

Dr. Larisa Kayserman
Dr. Robert V. Vallar
Burlington County

Camden County

Union County

ORTHOPEDIC SURGERY
Gloucester County

Morris County

Dr. Eric Black
Dr. Tamir Bloom
Dr. David Lin
Dr. Genghis Niver
Dr. Mark Rieger
Dr. Joshua Strassberg
Passaic County

PEDIATRICS
Middlesex County

Dr. Larnie Booker
Dr. Lakshmi Prasuna Uppaluri
Morris County

Dr. Margot Kerrigan
Dr. Jennifer Shaw
Dr. Stuart Slavin
Dr. Valerie Tom
PLASTIC/COSMETIC SURGERY
Essex County

PSYCHIATRY
Camden County

Dr. Hatice Burakgazi Yilmaz
PSYCHOLOGY
Atlantic County

PULMONOLOGY/CRITICAL CARE
Passaic County

REPRODUCTIVE MEDICINE
Monmouth County

SPORTS MEDICINE
Monmouth County

URGENT CARE/EMERGENCY MEDICINE
Monmouth County

Dr. Abolghassem Garmkhorani
VASCULAR SURGERY
Essex County

Dr. Bruce J. Brener
Dr. Cindy Sturt
Union County

Dr. Michael Downes Addis
Dr. Andrew Cha
Dr. Salvador Cuadra
Dr. Raymond Joseph Holmes
Dr. Mark Hermanth Kumar
Dr. Jonathan Levison
Dr. Mark W. Moritz
Dr. Michael Ombrellino
Dr. Combiz Rezayat
Dr. Clifford Sales
Dr. Scott Sundick
NJ TOP DENTISTS INCLUDE:
GENERAL DENTISTRY
Bergen County

Burlington County

Hudson County

Mercer County

Dr. Dennis Balazsi
Dr. Edward Gaines
Monmouth County

Dr. Eric S. Adler
Dr. Michael Adler
Morris County

Dr. Allison Adams
Dr. Anthony Cannilla
Dr. Ira Goldberg
Dr. Celine Lee
Dr. Mark McCaffrey
Ocean County

Somerset County

Union County

Warren County

ORAL/MAXILLOFACIAL SURGERY
Morris County

Dr. Sonia Francioni-Vulaj
Dr. Brian Klein
Dr. Tara C. Plansky
Dr. Edward A. Rosenbaum
Dr. Michael D. Singer
ORTHODONTICS
Essex County

Monmouth County

PEDIATRIC DENTISTRY
Monmouth County

PERIODONTICS
Monmouth County

PROSTHODONTICS
Camden County