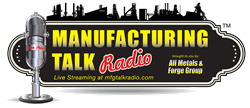 President Obama issued a presidential proclamation declaring the first Friday of October each year as National Manufacturing Day.
FAIRFIELD, N.J. (PRWEB) October 01, 2020
The New Jersey Manufacturing Extension Partnership is hosting a virtual Manufacturing Day Event on October 2, 2020 when manufacturing is highlighted each year on the first Friday in October. Keynote speakers include New Jersey Governor Phil Murphy, U.S. Representative Josh Gottheimer (D- 5th District), New Jersey State Senate President Steve Sweeney, State Senator Linda Greenstein (D – 14th District), State Senator Steve Oroho (R- 24th District), Mr. Kevin Cummings, CEO of Investors Bank, and NJMEP CEO Mr. John Kennedy who will address more than 10,000 manufacturers across the state of New Jersey and over 250,000 manufacturing employees, to recognize and honor one of the backbone industries of America. Manufacturing Talk Radio, a podcast by Jacket Media Co., will broadcast via live video feed the New Jersey event beginning at 8:50 a.m. of Friday October 2.
Manufacturing Day was initially held in 2011 on the first Friday in October and was jointly created by the Fabricators and Manufacturers Association, The National Association of Manufacturers, The Department of Commerce National Standards and Technology Manufacturing Extension Partnership, and the Manufacturing Institute to bring attention to manufacturing's impact on the U.S. economy and raise awareness of its transformation from and industry perceived as dark, dirty and dangerous to the advanced Industry 4.0 careers in the dynamic and digital businesses across the country. From just 600 'open house' events at manufacturing plants in 2012, Manufacturing Day has grown to thousands of plant tours and presentations from headquarter and production facilities across the U.S. In 2014, President Obama issued a presidential proclamation declaring the first Friday of October each year as National Manufacturing Day.
Manufacturing Talk Radio hosts Lewis A. Weiss and Tim Grady will cover the day's events and provide context around the importance of Manufacturing Day. Manufacturing Talk Radio has been broadcasting industry-leading information with thought leaders and industry experts since November of 2013 and is one of the principal podcast platforms covering the many sectors that make up manufacturing in the U.S. and employ more than 40 million people when that measurement includes all employees working for manufacturers and all upstream suppliers that provide raw materials and components to the production facilities throughout the country.
--------------------------------------------------------
About JacketMediaCo: Jacket Media Co (jacketmediaco.com) is a media content producer of podcasts and publisher of the Manufacturing Outlook ezine. Podcasts include Manufacturing Talk Radio, The WAM Podcast for Women And Manufacturing/Business, Manufacturing Matters with Cliff Waldman, Hazards Girls with Emily Soloby, Where's Willie with William Miller, and Fulltime with Amy Nicklaus. Jacket Media has produced over 600 episodes and dozens of industry videos, syndicated through the C-Suite Network, iTunes, Spreaker, Blubrry, Stitcher, and other podcast listening platforms.
About NJMEP: NJMEP is a private, not–for-profit organization that improves the profitability and competitiveness of New Jersey's manufacturers. Backed by the National Institute of Standards and Technology (NIST), NJMEP enables organizations to enhance their productivity and efficiencies, reduce costs, and improve employee performance. For more than 20 years, NJMEP has used its extensive network of connections and proven track record of success to help manufacturers adapt to the latest innovative technologies and best practices to realize more than $4.16 billion in value. Our services are categorized into the following three areas: Operational Excellence, Innovation and Growth Strategies, and Workforce Development. NJMEP also has a signature philanthropic program, Manufacturing Cares, which is designed to provide a platform for manufacturers to give back to the community by pooling efforts to increase our impact.