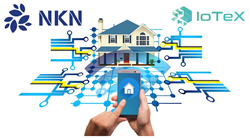 SAN MATEO, Calif. (PRWEB) October 03, 2018
NKN and IoTeX are pleased to announce a joint collaboration to offer smart home device connectivity and management powered by blockchain. With the growth of home sharing services like Airbnb, homeowners need the flexibility and security to use smart devices in their home as well as offer access to their guests. Today, connected IoT devices such as smart door locks, lighting, thermostats, and home appliances can streamline the renting process for owners and offer convenience for guests. However, these solutions often require owners to sign up for multiple, fragmented online services with no way to manage additional users. Therefore, NKN and IoTeX, two Silicon Valley blockchain startups, have teamed up to provide a solution.
"We are thrilled to be working with IoTeX to enable the next generation of smart home products on blockchain" says Zheng "Bruce" Li, Co-CEO of NKN.org, "The IoT application and smart contract capabilities of IoTeX will help NKN's public blockchain enabled communication network access and manage millions of smart home devices around the world."
"Our collaboration with NKN highlights how blockchain can be used in the real world," says Raullen Chai, Co-founder of IoTeX. "We are excited to unveil version 1.0 of our smart home solution, which ensures trust and transparency between homeowners and guests without a middleman."
The solution combines NKN's highly scalable public blockchain enabled peer-to-peer communications network together with IoTeX's blockchain protocol and smart contract capabilities to create a new trust and automation framework for short-term home rentals. This new solution allows smart home applications to connect directly and securely with IoT devices from any location, as well as the ability for homeowners to authorize or rent access to select smart home devices in real-time during a guest's stay. This combination redefines how the sharing economy can operate, enabling transparency for renters and a more tailored experience for guests.
NKN and IoTeX will be unveiling and presenting a live demo of the new IoT solution at the upcoming Telecom Infrastructure Project (TIP) Summit, sponsored by Facebook, Cisco, Intel and more, in London on October 16-17th. Come by the NKN Booth to see it for yourself!
About NKN
NKN is a new public blockchain powered communication network by the community, for the community and of the community. It's open, fully decentralized, and shared. It improves end user's Internet connectivity and speed, provides a simple and ubiquitous peer-to-peer network foundation for all decentralized applications, and enables Internet service providers and community to trade unused capacity.
About IoTeX
IoTeX is the auto-scalable and privacy-centric blockchain platform for the Internet of Things (IoT). IoTeX is developing several in-house innovations to push the frontier of blockchain 3.0, including a root chain / subchains architecture for heterogeneous computing, Roll-DPoS consensus mechanism for high scalability, and lightweight privacy-preserving techniques. IoTeX is bringing autonomous device coordination to the masses by "connecting the physical world, block by block."