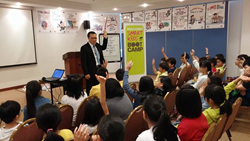 I Would Like to Thank Dr Ernest & His Resources for Their Efforts in Enlightening Wan Yee During SMARTKIDS BOOTCAMP. Her Results Speak: She Got All Bs in the June Preliminary Exams But Today, Her PSLE Results are 247 + 2 (higher Chinese)
Singapore (PRWEB) November 29, 2014
Dr Ernest Wong, also known as the "Grandmaster" of Neuro-linguistic programming (NLP) and Accelerated Learning Techniques in Asia, started SMARTKIDS & SUPERTEENS BOOTCAMP three decades ago, in 1985.
For the past 30 years, Dr Ernest Wong has used Singapore as a hub to reach out to people across Asia, from Malaysia and Vietnam, to Indonesia, Hong Kong and China.
From 25 - 28 November 2014, Dr Ernest Wong has been conducting a SMARTKIDS Bootcamp in YMCA, Singapore.
Over 30 participants, from 8 - 12 years of age attended the interactive, fun and learning-filled training.
Kids were taught academic and life skills covering four different aspects of their lives: Academic, Social, Personal and Mental Toughness.
In Personal Skills, they learn the 7 Values for Character Development, goal setting skills, time management and how to take care of their own health; while in Academic Skills, they are exposed to various NLP, speed reading techniques and Accelerated Learning Techniques to help them master all the subjects in their examinations and score "As."
One of the biggest challenges of growing up is making friends. By focusing on Social Skills, children are taught how to build confidence, express their thoughts through public speaking, make friends, solve bullying issues, and most importantly, practise expressing their feelings and love towards their parents.
The last pillar of Mental Toughness was taught by Dr Edgar Tham, Singapore's first Sport & Performance Psychologist and a leading practitioner and authority in mental toughness training, where children will learn how to deal with rejection, build trusting relationships, and handle exam stress and score well during examinations.
The father of Wan Yee, one of the participants in an earlier training contacted one of the co-trainers, Gary Tong, after receiving Wan Yee's Primary School Leaving Examination (PSLE) results. In his message, he said, "On behalf of Wan Yee, I would like to thank Dr Ernest and his team members for their efforts in enlightening Wan Yee during the bootcamp. Her results speak for themselves: she got all Bs in the June preliminary examinations but today, her PSLE results are 3As and 1A* + 2 (higher Chinese). Her total score is 247 + 2. "
And another young PSLE student also achieved 230 as her result after attending the SMARTKIDS BOOTCAMP conducted by Dr Ernest Wong.
About Learning Mastery
Learning Mastery Pte Ltd has had an impact on more than 500,000 young people in Singapore, Malaysia, Indonesia, Hong Kong and China since 1985. Every child who graduates from its two signature programs, SMARTKIDS & SUPERTEENS has life changing experiences.
There are two main components to the SMARTKIDS & SUPERTEENS BOOTCAMP: neuro-linguistic programming (NLP Singapore) and accelerated learning techniques.
NLP proposes a connection between the neurological processes ("neuro"), language ("linguistic") and behavioral patterns learned through experience ("programming") and teaches that these can be changed to achieve specific goals in life.
Accelerated learning techniques, as the name suggests, demonstrate how to apply specific methods to make learning easier, faster, and much more effective.
In 1988, founder Dr Ernest Wong received the Prestigious Golden Apple Award from Jack Canfield, founder of the Foundation of self-Esteem in California, USA, in recognition of his contribution towards raising the self-esteem of students in different parts of Asia.
Dr Ernest Wong has personally trained achievers such as Adam Khoo, founder of AKLTG company, who started the Adam Khoo Camp after being trained by Dr Ernest Wong; Stuart Tan and Gary Lee, Lead Trainers of AKLTG; Dr Edgar Tham, Singapore's first Sport & Performance Psychologist and thousands more.
More importantly, many of Dr Wong's students are transformed from being reserved to out-going and from achieving average grades to being in the top 3% of their schools, qualifying them for top universities, such as NUS, NTU, Harvard, Cambridge, Oxford, Yale, Princeton, Hong Kong University, and the Chinese Universities of Hong Kong.