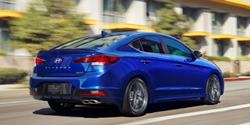 AVONDALE, Ariz. (PRWEB) June 19, 2020
Online shopping tools on the Earnhardt Hyundai website are giving local shoppers the ability to purchase a new vehicle from the comfort of their home. The dealership's No Bull Express services are giving interested buyers the opportunity to bring their entire car-buying experience online.
The simple online tools available on the Earnhardt Hyundai website walk individuals through each step in the automotive purchase process. Users begin by filtering through the dealership's online inventory to find the vehicle that is fit for them.
Once a customer has picked their vehicle, they can begin the online purchase process. Shoppers will navigate through a series of steps, including applying for financing options, choosing loan or lease terms, receive an appraisal for their trade-in and finalizing their deal. After the deal is finalized buyers will then schedule a delivery day to have their new Hyundai delivered straight to their home.
The Earnhardt Hyundai showroom offers interested customers a variety of new Hyundai vehicles and a wide selection of pre-owned models. The local dealership houses sedan, crossover and SUV models, offering something for every shopper.
Anyone can view the dealership's entire inventory online by visiting the Earnhardt Hyundai website, https://www.earnhardthyundai.com/. For any specific inquiries a dealership representative can be reached by phone, 833-331-0148. The Earnhardt Hyundai sales department is open seven days a week with hours from 8 a.m. to 9 p.m. Monday through Friday, 8 a.m. to 8 p.m. on Saturdays and from 10 a.m. to 6 p.m. on Sundays. The Earnhardt Hyundai showroom is located at 10401 W Papago Fwy, Avondale, AZ 85323.