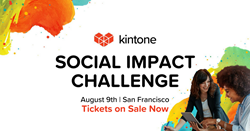 "Now that we've chosen some really great finalists we're looking forward to helping them bring their ideas to market," said Kintone CEO Dave Landa. "All three finalists presented some really innovative ideas that demonstrate how technology can be used for good in our community."
SAN FRANCISCO (PRWEB) July 25, 2018
Kintone, provider of a no-code application development platform used to quickly connect, organize, and visualize workflows, announced three finalists and seven Very Impactful Persons (VIPs) for their first annual Social Impact Challenge competition today. The finalists and VIPs are comprised of local entrepreneurs and nonprofits that submitted their innovative ideas which use technology to tackle some of the Bay Area's biggest challenges, including homelessness, chronic illness and education.
Each finalist will pitch their project before a live audience on August 9 for the chance to win over $5,000 in funding, plus additional prizes. The winner is chosen by the audience, with each attendee using their ticket to vote for their organization of choice. The organization a person votes for receives 100 percent of their ticket cost—even if they don't win. Purchase your tickets for the event, to be held at the WeWork Embarcadero Center on August 9, here.
Event attendees can choose to donate directly to the finalist(s) of their choosing, while Kintone will award the first-place winner $5,000, followed by $2,500 and $1,000 for second and third place winners. Prizes also include a year-long membership to Social Enterprise Alliance, Impact Group Coaching from Innov8social and Kintone licenses to manage impact-driven data and workflows.
The three finalists are:

Zuriel - an application platform designed by Cesion Software, aims to increase school funding while encouraging students to improve their academic performance and retention. It works by having local businesses pledge donations to schools on the condition of good academic performance. Students from the school enter the Zuriel platform and answer a series of questions related to their school material. If they show good answers, the pledged money is sent to their school.
zeusjuice - a free application that displays publicly-accessible power outlets. Through the app, the homeless community can find and share the locations of power outlets with one another. The app also features an SMS tool that lets them look up nearby power outlets with the app is not available.
Resilient Wellness - a non-profit that uses blockchain technology to give patients with chronic illnesses access to eastern and western healthcare solutions. The platform lets insurance and healthcare systems invest funds that are distributed to a set number of chronic illness patients. Patients can then use the funds to access a healthcare or alternative medicine providers that meet their specific needs.
The Social Impact Challenge Committee
The Social Impact Committee, which included 10 professionals from various business sectors including non-profits, chose the finalists and VIPs based on a number of criteria. Committee member Rachel Kenemore currently serves as the Development and Communications Manager at Hamilton Families, a leading nonprofit organization working to end family homelessness and disrupting the cycle of poverty in the San Francisco Bay Area since 2016.
"The Social Impact Challenge is a unique opportunity for social-minded people in the Bay Area. The event's minimal application requirements allowed a wide variety of candidates to pitch their projects: from fully-formed organizations to one or two-person teams with just an idea," said Kenemore. "While reviewing Challenge submissions, I sought those that presented new ideas, but the concept was only part of it. I also was looking for someone who brings humility and an understanding of what they don't know."
In addition to the three finalists, the Social Impact Committee also chose seven Very Impactful Persons (VIPs). VIPs are organizations who applied for the Social Impact Challenge whose work is recognized for its contribution to the Bay Area. Each VIP will present their work at the Social Impact Challenge, although audiences will not be able to vote for them. The seven VIPs are: Homobiles, Techtonica, Flourish Savings, Robotics Without Limits, Anxiety in Teens and Benevolently.
"Now that we've chosen some really great finalists we're looking forward to helping them bring their ideas to market," said Kintone CEO Dave Landa. "All three finalists presented some really innovative ideas that demonstrate how technology can be used for good in our community. We're looking forward to seeing each of the finalists' projects live and hope their supporters will come out and join us on August 9."
About Kintone Corporation
San Francisco-based Kintone is making teamwork better with its no-code application platform that provides organizations with a customizable workspace that integrates multiple data sources for deeper insight into business processes. Kintone eliminates the cost and maintenance requirements of traditional off-the-shelf applications while dramatically increasing team and workflow efficiency. More than 8,000 companies have built, deployed and use over 350,000 applications on Kintone. Kintone is provided by Cybozu Inc, a Tokyo-based public company founded in 1997. Both Kintone and Cybozu are designated as great workplaces by Great Place to Work, a global authority on high performing workplace cultures. For more information, please visit https://www.kintone.com/