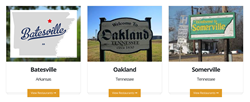 CORDOVA, Tenn. (PRWEB) April 03, 2020
Impact PaySystem announced today a nationwide launch of http://www.Bites.Menu, a no-cost, online ordering system for restaurants. Restaurant sales are tanking thanks to the COVID-19 pandemic. Dining rooms are closed, and cooks and servers are losing their jobs. The public is afraid as they should be, but people need to eat, people want their favorite meal from the best diner in town. Without patronage the economy suffers, owners and management are left to make tough decisions to protect, or worse, to close their business.
Impact PaySystem developed http://www.Bites.Menu to help. Offered free of charge for payments at pickup or delivery, restaurants everywhere are invited to register. Menus are posted and customers order online. A phone app notifies employees an order has been placed, and in turn, the patron gets notified of the delivery/pick-up time.
This concept was designed to assist with economic growth while continuing to encourage "social distancing" during the coronavirus outbreak. The Impact Marketplace at http://www.Bites.Menu is user friendly. Visitors simply choose their city, select from the multiple listed restaurants, view the menu and place an order. They can add cities as needed. It's that easy!
"This new site will allow restaurants to continue operation and accept orders online, eliminating the need for additional phone lines, and possibly reallocating servers to deliver or help in the kitchen," said Dee Karawadra, CEO of Impact PaySystem. "We need to help support our businesses, especially in the rural areas, where they may not have the popular ordering/delivery platforms and the cost associated with that. We will continue to offer the no-cost service until things get back to the new normal", said Karawadra.
Restaurants can sign-up at http://www.Bites.Menu.
If you would like more information about this topic, please email bites@impactpays.com.
Since 2001, Impact PaySystem has been a leading provider of payment processing technologies and services to merchants throughout the United States. Through alliances with electronic payment industry leaders Impact PaySystem offers tailored solutions to meet the unique needs of each merchant.