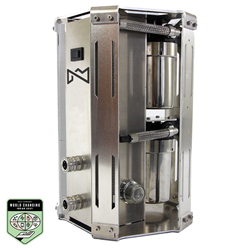 LANSING, Mich. (PRWEB) May 06, 2021
The winners of Fast Company's 2021 World Changing Ideas Awards were announced today, honoring the businesses, policies, projects, and concepts that are actively engaged and deeply committed to pursuing innovation when it comes to solving health and climate crises, social injustice, or economic inequality.
No Dirty Earth's Rugged Water has been awarded honorable mention in the 2021 World Changing Ideas Award by Fast Company. Rugged Water is an off-grid, portable water filtration system. The utilitarian design supplies 1000+ gallons per day in a contained and compact case weighing roughly 15 pounds. Trust your water with multi-stage filtration. The pre-filter works to remove sediments and extend the life of the second-stage filter. The NSF/ANSI 42 & 53 Certified - Made in the USA No Dirty Water 0.2 Micron filter uses electro adsorptive media to remove iron, lead, microorganisms, trace pharmaceuticals, VOC's and more all while preserving beneficial minerals, correcting the pH, and maintaining a high flow rate. A fourth stage (Ultraviolet) option is available for even greater performance in attacking bacteria, viruses etc. Rugged Water is 12 volts so you can opt to power its onboard pump from a small battery or solar panel, or connect it to pressurized water with no power hookup required.
Today, over 60% of the population does not have access to clean water today. Thus the vision for clean water anywhere was born. 2.2 billion people lack access to safely managed drinking water services (WHO/UNICEF 2019). The current technologies created to help the water crisis are oversized, expensive inventions that take teams of people to implement and are not scalable in developing nations. Also in the United States, with the increase of people looking to experience the outdoors following the pandemic, many people realize that their campsites' water supply isn't safe to drink and are therefore purchasing single-use plastic bottles.
Our society has made incredible progress and technological innovations recently. Yet the building block of life, often taken for granted by most people in the US, is now a pressing world crisis that needs our attention. Access to clean water anywhere should be simple. No difficult and oversized machines, no cost-prohibitive technology, no dirty water anymore.
Now in its fifth year, the World Changing Ideas Awards showcase 33 winners, more than 400 finalists, and more than 800 honorable mentions—with Health and Wellness, AI & Data among the most popular categories. A panel of eminent Fast Company editors and reporters selected winners and finalists from a pool of more than 4,000 entries across transportation, education, food, politics, technology, and more. Plus, several new categories were added, including Pandemic Response, Urban Design, and Architecture. The 2021 awards feature entries from across the globe, from Brazil to Denmark to Vietnam.
Showcasing some of the world's most inventive entrepreneurs and companies tackling exigent global challenges, Fast Company's Summer 2021 issue (on newsstands May 10) highlights, among others, a lifesaving bassinet; the world's largest carbon sink, thanks to carbon-eating concrete; 3D-printed schools; an at-home COVID-19 testing kit; a mobile voting app; and the world's cleanest milk.
"The challenge, does the design, technology and cost structure exist to redefine the water purification process where it is global, portable, compact, works off clean/renewable energy yet is affordable while serving a single person, a single family, or community with healthy water? It does now as Rugged Water is a 2 to 3 stage water purification system that redefines how one looks at healthy water and avoiding a climate disaster," said John Sztykiel, Co-Founder of No Dirty Earth.
"Rugged Water was birthed out of seeing firsthand what it was like to not have healthy water and the negative outcomes it has on communities facing water insecurity. While we are excited about the current state of Rugged Water, the future is even more exciting as progressive brands, individuals and organizations embrace this revolutionary product. Healthy Water, Healthy You, Healthy Earth... we are doing our part to make it happen," said Joni Sztykiel Co-Founder No Dirty Earth.
"Rugged Water's focus on design, cost and technology as it redefines water purification is a key reason it will be a part of a select few 2022 models to be shown at the SEMA (Specialty Equipment Market Association) Show Nov. 2-5 2021 in Las Vegas, NV. Lance Camper is also on a mission to redefine how people interact and enjoy the great outdoors while creating a better earth," said Bob Rogers, VP of Marketing at Lance Camper.
"There is no question our society and planet are facing deeply troubling times. So, it's important to recognize organizations that are using their ingenuity, impact, design, scalability, and passion to solve these problems," says Stephanie Mehta, editor-in-chief of Fast Company. "Our journalists, under the leadership of senior editor Morgan Clendaniel, have discovered some of the most groundbreaking projects that have launched since the start of 2020."
About the World Changing Ideas Awards: World Changing Ideas is one of Fast Company's major annual awards programs and is focused on social good, seeking to elevate finished products and brave concepts that make the world better. A panel of judges from across sectors choose winners, finalists, and honorable mentions based on feasibility and the potential for impact. With the goals of awarding ingenuity and fostering innovation, Fast Company draws attention to ideas with great potential and helps them expand their reach to inspire more people to start working on solving the problems that affect us all.
About No Dirty Earth: No Dirty Earth is a startup creation of Created 2 C founded by John and Joni Sztykiel. In all that C2C does (investing, consulting, startups) there are two central themes, value creation and a better world. No Dirty Earth encompasses two brands, No Dirty Water and No Dirty Air, where it is all about "Live Sustainability, Adventure Responsibly."
Contact: Pierce Fitzpatrick
Phone: (574) 383-9277
Email: pierce.fitzpatrick@nodirtyearth.com
Website: http://www.nodirtyearth.com
Inspiring Quotes:
"You must do the things you think you cannot do." -Eleanor Roosevelt
"Make it happen." -Joni Sztykiel