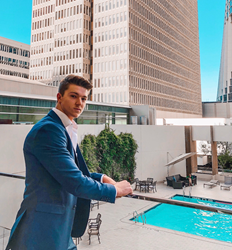 Feeling alienated at school due to his different approach to education and life, Noah took a particularly contentious leap of faith and dropped out of high school
SEATTLE (PRWEB) August 13, 2019
For those who have already found Noah Plitt's online presence, it shouldn't be a surprise to hear that this entrepreneur had a particularly unique path to his relatively newfound success. His constantly-growing list of followers, which at the time of writing is at 63.6k, give the account thousands of likes per post, which is impressive considering he's the rare Instagram influencer who has their account sent to private. What is even more impressive, however, is the fact that Noah Plitt, who's public profile notes that he's an entrepreneur, a high school dropout, uses Forex, and that he's "Helping people create extra income with A.I." is only 17 years old.
His age alone explains exactly why his success is so new when compared to other influencers who have achieved somewhat similar successes - Noah Plitt has only been active in entrepreneurship for a few years, most of which has been dedicated to constructing an education that will actually work for him.
While the majority of people who go through and graduate from high school do truly get a lot out of the educational system provided to them, Plitt knew as a matter of fact that he wasn't going to learn what he felt he needed from the teachers at his high school. In fact, he had more than his fair share of entrepreneurship books taken away by teachers who wanted him to focus on whatever lecture they were giving at the time.
Feeling alienated at school due to his different approach to education and life, Noah took a particularly contentious leap of faith and dropped out of high school. Educationally on his own, he took quick action to set himself up with the best alternative education a young aspiring entrepreneur could and wedged himself into the entrepreneurial community whenever he saw the opportunity. He could be found at outings, events, trips, and anything he could get permission to go to just so he could be around the people he felt would be a positive impact on his entrepreneurial calling.
Where most kids his age collect trinkets, knickknacks, shoes, or other fairly nonconsequential things, Noah hunted down successful individuals who would provide invaluable insight into business building and offer the kind of networking opportunities available only to those who prove their intrinsic worth and a capacity to help others achieve even further success.
Of those he has connected with, Plitt is especially appreciative of the guidance and opportunities received from Grant Cardone, who he says has had the biggest influence in his life, as well as Dan Lok and Gary Vee, who've taught this young wavemaker patience, working smart, and working hard. Noah also says his father John Plitt has played an incalculably large role in getting Noah started in entrepreneurship.
When asked what the personal driving force has been that helped this young entrepreneur break out of the system and build a future of his own design, Plitt said, "Well, money can't buy happiness, but poverty can't buy anything." He has also noted that he is not anti-education, but that he is against a system that seems designed to keep people from building profit of their own. This ideology can be seen taking root through a number of Plitt's endeavors, including an artificial intelligence system he uses to automate Forex trading, pushing himself onto other more well-known influencers both online and in person, and the fact that he's constantly taking action to better himself and his legacy. Regarding the artificial intelligence he leverages for investment, Plitt also manages large portfolios for others, including some that are at amounts into seven figures.
Those interested in learning more about Noah Plitt are encouraged to reach out to the budding influencer and future economic powerhouse through his Instagram account: @noah.plitt. Along with leveraging artificial intelligence to help others in their trading, he also helps those looking to get into scalable profits learn about and take part in Amazon automation, crypto mining, Airbnb renting, and more. Taking his youthful energy and entrepreneurial talent into account, it shouldn't come as a surprise when he'll most likely become a household name in a few years, and is now starting a private fund management company helping people invest more directly into the future of investments and the forex market, from accredited investors to everyday individuals.