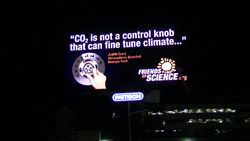 Carbon dividend is a plan to "tax 'em and bribe 'em with their own money... Carbon Kleptomania.
CALGARY, Alberta (PRWEB) January 24, 2019
The Wall Street Journal published an " Economists' Statement on Carbon Dividends" on Jan. 16, 2019, signed by a number of high-profile economists, including Nobel Laureates, who claim an open-ended, unfettered carbon tax would stop climate change and pay dividends, a claim rejected by Friends of Science.
They seem to be unaware that the UN Climate Panel (IPCC) reported in 2013, that global warming had paused for 15 years, with no statistically significant warming since before Kyoto was ratified, despite a large increase in carbon dioxide emissions. Dr. Judith Curry testified to the US Senate on Jan. 16, 2014 that the case for human-caused global warming was weakened and that "carbon dioxide is not the control knob that can fine tune climate." The pause continues to this day.
Norway was one of the first countries in the world to embrace stringent carbon taxes ranging from US$21 to $51, but these were ineffective, resulting in just a 2% emissions reduction.
Robert Lyman, Ottawa energy policy consultant, former public servant of 27 years and diplomat for 10 years, dismisses the notion that a 'carbon dividend' is workable without great damage to the economy and individuals in his report "Carbon Kleptomania." Governments and green cronies with insatiable appetites for carbon taxes will put people into "carbon serfdom."
He calls it a plan to "tax 'em and bribe 'em with their own money."
On Jan 12, 2019, Psychology Today published a long epistle by father-daughter author team about climate change denial, claiming the alleged crisis is just too big to be believed for some, while others who 'deny' must be motivated by vested interests in oil. They appear to be unaware that climate hysteria has been funded via environmental groups for over a decade for more than ~US$600 million a year by the billionaire ClimateWorks Foundation 'philanthropic' partners who want to establish a global cap and trade plan for their vested interests in wind and solar. (Nisbet, 2018)
Prof. Ross McKitrick, Canadian economist and co-author of the award-winning book "Taken by Storm," explains that carbon prices are set far too high in his 2014 presentation to Friends of Science: "The 'Pause' in Global Warming: Climate Policy Implications." Carbon taxes (Social Costs of Carbon) are calibrated to climate models that project temperatures far above those observed. The co-author of his book, Prof. Christopher Essex, points out that to do an accurate ten-year modeled forecast, one would need computing time that is the age of the universe squared. Models are trying to forecast 100 years out. Essex deplores the shamanistic-tribal mentality that accompanies the worst of climate-name-calling in his essay "Cavemen, Climate and Computers."
More concerning for many survivors of the old Soviet Bloc is the manner and style of Communism being gradually imposed upon the West, with climate change catastrophe as the compliance lever. Zuzana Janosova den Boer's assessment "I Survived Communism – Are You Ready for Your Turn" was wildly popular on Spencer Fernando's blog, posted Jan. 03, 2019.
Certainly a familiar tactic of most communist regimes was to ascribe mental illness to anyone who disagreed with the party line 'consensus.'
The sun is the main driver of climate change – so far even the cleverest economists have not figured out how to tax it for doing that.
About
Friends of Science Society is an independent group of earth, atmospheric and solar scientists, engineers, and citizens who are celebrating its 16th year of offering climate science insights. After a thorough review of a broad spectrum of literature on climate change, Friends of Science Society has concluded that the sun is the main driver of climate change, not carbon dioxide (CO2).
Friends of Science Society
P.O. Box 23167, Mission P.O.
Calgary, Alberta
Canada T2S 3B1
Toll-free Telephone: 1-888-789-9597
Web: http://www.friendsofscience.org
E-mail: contact(at)friendsofscience(dot)org
Web: http://www.climatechange101.ca