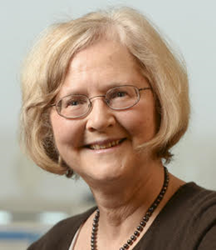 LM2019 serves as a meeting place for the visionary medical professionals who are united in their commitment to treating root causes of disease.
ORLANDO, Fla. (PRWEB) May 02, 2019
The American College of Lifestyle Medicine (ACLM) will host its 2019 conference, themed "The Foundation of Health Care," at the Rosen Shingle Creek Resort in Orlando, FL October 27-30, with Nobel Laureate Elizabeth Blackburn, PhD, showcased as the keynote presenter.
Dr. Blackburn received the Nobel Prize in Physiology or Medicine in 2009 for discovering the molecular nature of telomeres, the ends of chromosomes that serve as protective caps essential for preserving genetic information, and for co-discovering telomerase, an enzyme that maintains telomere ends. Both telomeres and telomerase are thought to play central roles in aging and diseases such as cancer, and her work helped launch entire new fields of research in these areas.
Dr. Blackburn has won many other prestigious awards throughout her career and in 2007 was named one of TIME Magazine's 100 Most Influential People. Dr. Blackburn will be sharing her work discussing the role of telomeres and telomerase in health and disease.
Dr. Blackburn will be joined by other keynote presenters including Archelle Gieorgiou, MD, a leading author and former chief medical officer of UnitedHealthcare; Walter Thompson, PhD, associate dean for Graduate Studies and Research and a tenured Regents' Professor of Kinesiology and Health at Georgia State and former president of the American College of Sports Medicine (ACSM); and Valter Longo, PhD, Professor of Gerontology and Biological Science and Director of the Longevity Institution at the School of Gerontology at the University of Southern California in Los Angeles. Concurrent sessions will be led by Lifestyle Medicine luminaries Drs. Dean Ornish, Michael Greger and others.
Some 1,500 physicians and other health professionals are expected to attend the conference, ACLM's largest ever. Sessions will cover various aspects of Lifestyle Medicine, from the science and the use of evidence-based lifestyle therapeutic approaches, such as a plant-predominant dietary lifestyle to topics on Lifestyle Medicine and health disparities, women's health, chronic pain management, provider tools, reimbursement and more. Other topics will include strategies on de-prescribing, physician burnout and resiliency, and implementing Lifestyle Medicine in clinics, health care institutions and communities.
"One of the reasons physicians and other health care providers are joining ACLM in record numbers is because everyone is tired of the revolving door that is the current health care system," said Dr. Sami Bég, Chair of the Lifestyle Medicine 2019 conference. "With ever-increasing, preventable chronic diseases taking a toll on everyone – from patients to employers to providers alike - it is becoming evident the house of medicine cannot sustain itself without first reinforcing its foundation through Lifestyle Medicine. Lifestyle Medicine is the cement that strengthens all of health care and we are excited that LM2019 will be our biggest conference yet, attracting physicians, nurses, dietitians, exercise specialists, physician assistants, pharmacists and more from around the world."
"LM2019 will showcase expert presenters and content addressing the 'how' of Lifestyle Medicine, going beyond the evidence-based science that supports its efficacy. This will include sessions on provider tools, reimbursement and how Lifestyle Medicine has been implemented by visionary leaders in their respective communities," said Susan Benigas, executive director of the American College of Lifestyle Medicine. "As the nation's premier Lifestyle Medicine conference, LM2019 serves as a meeting place for the visionary medical professionals who are united in their commitment to treating root causes of disease. This is what has reignited their passion for the practice of medicine. They recognize that evidence-based lifestyle strategies are vital to solving the health care-related challenges we face."
The Lifestyle Medicine physician has been recognized by the Association of the American Colleges of Medicine as one of the five emerging physician careers. ACLM, the medical professional association for physicians and other health team members who practice Lifestyle Medicine, provides training and certification for physicians and other health professionals.
Kicking off with pre-conference workshops on Saturday, October 26, the conference, runs through mid-day Wednesday, October 30. The American Board of Lifestyle Medicine will be hosting its third annual board exam on October 31, with conference attendance fulfilling the live CME exam prerequisite.
About the American College of Lifestyle Medicine:
ACLM is the medical professional society providing quality education and certification to those dedicated to clinical and worksite practice of Lifestyle Medicine as the foundation of a transformed and sustainable health care system. Lifestyle Medicine treats, often reverses and prevents chronic disease through the combined use of evidence-based lifestyle therapeutic approaches, such as a predominantly whole food, plant-based diet, regular physical activity, adequate sleep, stress management, avoiding use of risky substances and pursuing other non-drug modalities, to treat, reverse, and prevent chronic disease. ACLM members are united in their desire to identify and eradicate the root cause of disease, and create a new systems approach to health. Learn more at http://www.LifestyleMedicine.org. For information and to register for Lifestyle Medicine 2018, visit http://www.LMConference.org.