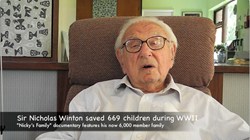 I have a motto that if something is not blatantly impossible, there must be a way of doing it. ~ Sir Nicholas Winton
Santa Monica, CA (PRWEB) July 16, 2013
Sir Nicholas Winton, also known as "Britain's Schindler," is being honored this week with a Golden Goody Award in conjunction with "Nicky's Family" documentary release on Friday July 19th in New York, Los Angeles and VOD everywhere. This top award is being presented virtually to Sir Nicholas Winton, who is now 104 years old and lives in London, as part of a Goody Awards "Force for Good" Campaign (July 15-Aug 15, 2013).
Accepting the award via video from England, Sir Nicholas Winton shared, "Thank you very much indeed for presenting me with the Golden Goody Award, which seems to encapsulate all the things, which I hold most dear. I feel if people lived according to the standard ethics, then most of our problems would be over." VIDEO: http://youtu.be/xJjdgHjjjFY
Sir Nicholas Winton was knighted by Queen Elisabeth II for his Czech Kindertransport, and the U.S. House of Representatives passed H.R. 583 recognizing his remarkable deed. Over 213,000 people have already signed the petition for Sir Nicholas Winton to win the Nobel Peace Prize. The Goody Awards encourages everyone to sign this petition on Change.org, especially since an individual must be alive to receive a Nobel Peace Prize and Sir Nicholas is 104 years old. Winners will be announced this October.
Congratulations have been sent from around the world. Founder of E! Entertainment Television and Metan Development Group, Larry Namer, sent his congratulations from China, "Every time I think I have heard every story about some of the incredible moments of courage during WW2 I find one that is more amazing than the last. Sir Nicholas Winton is certainly deserving of the lifetime achievement award and I am sure that many millions join the 6000 people in his extended family in wishing him our heartfelt thanks for his courage and valor."
Rabbi Abraham Cooper, Associate Dean of the Simon Wiesenthal Center, Museum of Tolerance, who honored Sir Nicholas at the Holocaust Memorial in 2002, sent this message, "Nicholas Winton's humanitarian accomplishments in saving young Jews from the clutches of genocidal Nazi Germany reveals not only this man's courage and tenacity on behalf of the Good but an indictment of his contemporary Europeans' overwhelming inaction, apathy, and even collusion in the face of Evil. May Mr. Winton's legacy continue to inspire every new generation."
And 1 of his 669 child survivors, Dave Lux (80 years old), congratulated Sir Nicholas Winton during a video interview from his Los Angeles home, "Hello Winton. Hello Nicky actually. We met at your 70-year reunion in London, and in fact, we sat down, we had lunch together, which was one of the highlights of my life. You're going to receive a well, well, well deserved award called the Golden Goody that I'm privileged to sit here and congratulate you. May you have many more good years of good health in the future and enjoy every minute of it."
In 1938, Sir Nicholas Winton was a 29-year-old stockbroker who went to Czechoslovakia on vacation with a friend who wanted to help those in danger of the Germans. After seeing the refugee camps, Sir Nicholas took the initiative to arrange for 669 children to be adopted by British families. Sir Nicholas shares in the film, "I have a motto that if something is not blatantly impossible, there must be a way of doing it."
"Nicky's Family" (the survivors, children and grandchildren) are now doing good to give back. Survivor families have donated hair to cancer survivors, set up a program to save the lives of undernourished children in Cambodia and Africa that has saved 3,000 children, and speak to children about their stories. Winton Survivor Dave Lux became a speaker at the Los Angeles Museum of Tolerance, and is proud to be part of Steven Spielberg's Survivors of Shoah Library. With tears in his eyes, Dave shared how he dedicates every talk to his parents whom he never saw after 5 years old. Dave added, "If Sir Nicholas had not put up the transport costs for me and my brother, we probably would not have made it."
Please join the Goody Awards and worldwide campaign to recognize Britain's Schindler by signing the Nobel Peace Prize Petition, and leave congratulations in the comments for Sir Nicholas Winton's Golden Goody Award acceptance video on YouTube.
About Goody Awards
The Goody Awards presents social good awards via social media, special events and cause marketing campaigns in four key areas: women empowerment, health, environment, and education. Their mission is to inspire change by recognizing the good in the world. The Golden Goody Award is their top award, and is like an Oscar for Social Good or Golden Globe. This lifetime achievement award has been presented to Louie Psihoyos, Director of "The Cove", Erica Greve, Unlikely Heroes Founder and Lucy Webb, Women In Film in Park City at Sundance, among others. Everyone is encouraged to tweet to recognize good @GoodyAwards with #taggood. http://goodyawards.com/golden-goodys/