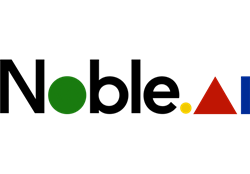 We look forward to utilizing NVIDIA's technology to help our customers across the chemical, automotive, pharmaceutical, and materials industries to overcome challenges that cannot be solved by simply applying conventional computing methods -- Matthew C. Levy, CEO Noble.AI
SAN FRANCISCO (PRWEB) August 27, 2019
Noble.AI (https://noble.ai), an artificial intelligence company based in San Francisco offering software that accelerates decision making in R&D, today announced it has joined the NVIDIA Inception program, which is designed to nurture startups revolutionizing industries with advancements in AI and data sciences.
Noble.AI builds AI tools that help scientists and researchers create new products faster and smarter, like electric cars and supersonic aircraft. The company launched the first software-as-a-service (SaaS) platform that is purpose-built for science, by using advanced AI algorithms which combine scientific laws and deep learning to achieve an unprecedented understanding of science and the physical world.
As a member of the Inception program, Noble.AI will gain access to the latest and most sophisticated NVIDIA graphics processing unit (GPU) hardware, providing an advantage to training and scaling its science-based deep neural networks in a more parallelized and rapid fashion.
NVIDIA's Inception program is a virtual accelerator program that helps startups during critical stages of product development, prototyping and deployment. Every Inception member gets a custom set of ongoing benefits, from hardware grants and marketing support to training with deep learning experts.
"We are excited to join the NVIDIA Inception program," said Dr. Matthew C. Levy, the Founder and CEO of Noble.AI. We look forward to utilizing NVIDIA's technology to help our customers across the chemical, automotive, pharmaceutical, and materials industries to overcome challenges that cannot be solved by simply applying conventional computing methods."
Research and development is a $2 trillion global industry, but it often requires many slow guess-and-check processes to explore the tens of thousands of possible next experiments. Noble.AI sets itself apart by taking understandings from one industry to improve products in another industry via a patent-pending technology that incorporates scientific constraints into AI models, so they only learn solutions that are physically viable. The leadership team has held research affiliations with Oxford and Stanford and has nearly 35 combined years of experience delivering best-in-class digital solutions for Fortune 500 companies.
Noble.AI recently partnered with a leading automotive original equipment manufacturer (OEM) to help them build more fuel-efficient, greener vehicles, and in March of this year announced a partnership with Solvay, a world-class chemistry firm.
About Noble.Al
Noble.AI builds AI tools that lower the cost of enterprise R&D. The company's mission is to partner with the world's most important R&D organizations, to accelerate their process of innovation and help them bring products to market faster. By structuring and centralizing access to complex data, and by automatically ruling out candidate experiments that could never occur in the real-world, the Noble platform enables R&D teams to work with vastly higher productivity to achieve innovation. Learn more at http://www.noble.ai or schedule a live demo of the Noble Platform: demos@noble.ai.