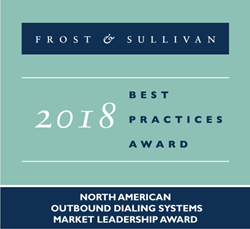 Once again, Noble Systems' achievement is marked by the company's innovation in providing a broad range of agile solutions focused on the changing needs of the contact center market.
ATLANTA (PRWEB) December 04, 2018
Noble Systems Corporation, a global leader in omnichannel contact center technologies, has received the Frost & Sullivan 2018 Market Share Leadership Award for the North American Outbound Dialing Systems market. The award, announced at last night's Gala event, marks the sixth consecutive year that Noble has been ranked as the market leader. Noble's key performance drivers, which include depth of innovation, strength of offering, and ownership experience, set the company apart from other vendors.
The Frost & Sullivan North American Outbound Dialing 2018 Market Share Leadership Award is presented to the company that has demonstrated excellence in capturing the highest market share within the industry. Over the past year, Noble has increased its market share by almost 5%, built on the success of its single-code premise and cloud offerings. With a broad portfolio of omnichannel customer experience solutions, tenured management, key strategic initiatives, and a record of industry advocacy, Noble Systems has firmly established its brand strength and leadership position.
"Noble Systems has maintained its lead in the Outbound Dialing Systems market for the sixth consecutive year, growing its presence in an ever-more challenging environment," said Nancy Jamison, Principal Analyst, Digital Transformation at Frost & Sullivan. "Once again, Noble Systems' achievement is marked by the company's innovation in providing a broad range of agile solutions focused on the changing needs of the contact center market. Noble is also committed to delivering a superior ownership experience, which is reflected in having one of the lowest churn rates in the industry."
Chris Hodges, senior VP sales and marketing at Noble Systems, states, "For almost three decades, Noble Systems has been committed to providing superior omnichannel technologies and services to help companies improve the customer experience, and we are excited to be at the front of the growing focus on agent engagement. We are honored to again be recognized by Frost & Sullivan for our best-in-market solutions, and will continue to deliver added value for our clients with the most complete customer communications platform available from a single vendor, and the ability to deploy our systems in premise, cloud, or hybrid models without sacrificing features or performance."
About Noble Systems
Noble Systems Corporation is a global leader in the customer communications industry, providing innovative solutions for Contact Center, Workforce Engagement, and Analytics technologies. Tens of thousands of agents at client installations worldwide use Noble platforms to manage millions of customer contacts each day. Noble offers a unified suite of inbound, outbound, and omnichannel contact processing, strategy planning, resource management, and compliance tools for companies of all sizes. Our premise, cloud, and innovative premise/cloud hybrid platforms include ACD, predictive dialing, blended processing, recording and monitoring, IVR, messaging, interaction analytics, workforce management, and gamification. With a portfolio of 170 patents and growing, Noble leads the way in pioneering solutions for the contact center market. For more information, contact Lee Allum at 1.888.8NOBLE8 or visit http://www.noblesystems.com.
About Frost & Sullivan
Frost & Sullivan, the Growth Partnership Company, enables clients to accelerate growth and achieve best-in-class positions in growth, innovation and leadership. The company's Growth Partnership Service provides the CEO and the CEO's Growth Team with disciplined research and best practice models to drive the generation, evaluation and implementation of powerful growth strategies. Frost & Sullivan leverages more than 50 years of experience in partnering with Global 1000 companies, emerging businesses, and the investment community from 45 offices on six continents. To join our Growth Partnership, please visit http://www.frost.com.