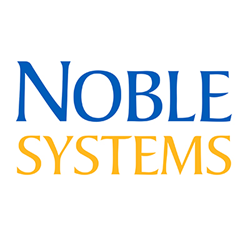 Noble Systems been investing in innovation for three decades, and will take action when necessary to protect that innovation and support our customers.
ATLANTA (PRWEB) July 26, 2018
Noble Systems Corporation, ("Noble") is pursuing a lawsuit against Acqueon Technologies, Inc. ("Acqueon") for alleged patent infringement in the U.S. District Court for the Northern District of Texas. The Complaint alleges infringement by Acqueon's "LCM" and "U-Nexsys" products, and Aqueon's TCPA compliance module.
Noble is asserting four U.S. patents relating generally to calling campaign management for outbound calling and manual dialing solutions for addressing TCPA regulations. Noble seeks an injunction and damages. Noble has also filed a motion seeking leave to add Serviont Global Solutions Limited (a.k.a. "Servion Ltd.") and Serviont Global Solutions, Inc. (a.k.a. "Servion USA") as defendants in the suit, asserting the same four patents.
Jim Noble, President and CEO of Noble Systems, said, "Noble Systems has been introducing companies to smart customer contact technologies for more than 28 years. During this time, Noble has respected the intellectual property of others, and we likewise expect others to respect our intellectual property. We have patiently attempted to resolve this dispute without having to resort to litigation, but circumstances have forced us to act otherwise. We have been investing for decades in innovation, and will take action when necessary to protect that innovation and support our customers."
The suit is Case No. 3:17-cv-02274-G in the N.D. of Texas, and involves U.S. Patents RE46,420; RE46,478; 9,521,257; and 9,635,183.
About Noble Systems
Noble Systems Corporation is a global leader in the customer communications industry, providing innovative solutions for Contact Center, Workforce Engagement, and Analytics technologies. The vendor of choice at over 4000 client installations worldwide, Noble is a recognized leader in outbound dialing, and its innovative Compliance Appliance® manual dialing solution was recognized as the 2016 Product of the Year. With a portfolio of 165 patents and growing, Noble leads the way in pioneering solutions for the contact center market. For more information, contact Lee Allum at 1.888.8NOBLE8 or visit http://www.noblesystems.com.