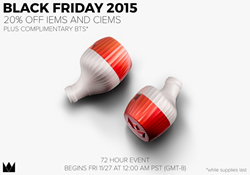 Santa Barbara, CA (PRWEB) November 24, 2015
Noble Audio creates some of the finest universal and custom in-ear headphones available today. The brand's handcrafted custom designs, often featuring rare materials such as reconstructed metal alloys, 24K gold nugget, and some of the world's most exotic woods, have earned Noble a devoted global client base of discerning music enthusiasts and audiophiles.
This Black Friday - Noble Audio invites you to experience their Exceptional Design and Superior Sound with 20% off in-ear monitors and custom in-ear monitors.
Originally created for performers on stage, in-ear monitors (IEMs) were conceived as an efficient replacement for stage monitors, while also providing some means of hearing protection. The California-based in-ear specialist, Noble, has drawn from the expertise of co-founder and principle designer, audiologist Dr. John Moulton AuD CCC-A. The result is a remarkable, high-performance, product portfolio from everyday in-ear universal IEMs to stunning 10-driver custom-fit products. Within the past several years, the brand has commissioned some of the most uniquely alluring audio products, a true juncture of art and function.
20% off IEMs and CIEMs plus free Blue Tooth System (BTS)*
12:00 am PST (GMT-7) Friday, November 27th -
12:00 am (GMT-7) Monday, November 30th
Available via http://www.nobleaudio.com
*Free BTS (Bluetooth Solution) only while supplies last
About Noble Audio
Noble Audio is a California-based in-ear monitor (IEM) specialist with a comprehensive product line principally designed by audiologist Dr. John Moulton AuD CCC-A. Offering universal and bespoke custom-fit monitors, the company has an international reputation for excellence across its range and is revered for its design aesthetic and exceptional sound quality.
Website: nobleaudio.com
Facebook: http://facebook.com/nobleaudio
Instagram: @nobleaudio
Twitter: @noblebywizard