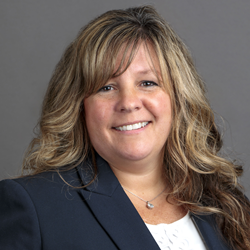 "Noblis is a mission-focused, advanced science and technology company and we strive to maintain an exceptional workplace focused on growth and development ... " said Amr ElSawy, Noblis president and CEO. … "We look forward to having Debbie work as an integral member of the Noblis leadership team."
RESTON, Va. (PRWEB) January 24, 2020
Noblis, a leading provider of science, technology and strategy services to the federal government has named Deborah Drake as vice president and chief people officer.
Drake will lead the Noblis human resources and organizational development organizations which includes responsibility for talent recruitment, the total rewards system, professional and organizational development, and employee engagement. She reports to Amr ElSawy, Noblis president and CEO.
"Noblis is a mission-focused, advanced science and technology company and we strive to maintain an exceptional workplace focused on the growth and development of our people," said ElSawy. "Debbie has significant experience in our industry and demonstrated success building environments that foster collaboration, growth and development. Our talent management strategy is central to our ability to deliver exceptional results to our clients. We are looking forward to having Debbie work as an integral member of the Noblis leadership team."
"I am thrilled to be part of such an exceptional culture that values our mission-focused people," said Drake. "I look forward to engaging with such a dynamic workforce."
Prior to Noblis, Drake was the vice president for human resources and talent acquisition at ManTech,
senior vice president and chief human resources officer at Sotera Defense Solutions, and vice president/ human resources business services director at Leidos.
Drake earned a bachelor's degree in psychology from Mary Baldwin College and a master's degree in administration / human resource management from Marymount University.
Last year Noblis was named a top employer on the Washington Post's annual "Top Workplaces" list for the sixth year in a row. The ranking, based solely on employee feedback, recognizes employers that excel at organizational health and workplace engagement in the Washington, D.C. metropolitan area.
ABOUT NOBLIS
Noblis is a dynamic science, technology, and strategy organization dedicated to creating forward-thinking technical and advisory solutions in the public interest. We bring the best of scientific thought, management, and engineering expertise together in an environment of independence and objectivity to deliver enduring impact on federal missions. Noblis works with a wide range of government clients in the defense, intelligence and federal civil sectors. Together with our wholly owned subsidiary, Noblis ESI, we tackle the nation's toughest problems and support our clients' most critical missions.