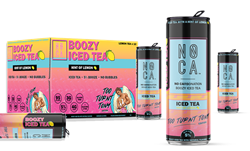 "Partnering with Too Turnt Tony is a dream come true" said Co-Founder Alex Febonio, "We've worked with Tony for years, and we're very excited to grow our brands together. The boozy iced tea has an incredible flavor, and we love the energy and excitement that Tony and his team bring to our company."
BOSTON (PRWEB) February 21, 2023
Today, NOCA Beverages ("NOCA"), the brand focused on creating better boozy beverages with zero carbonation, has launched an exclusive collaboration with social media phenomenon Too Turnt Tony ("Tony"). The collaboration features a new bubble-free boozy iced tea which will soon be available in over 22 states across the country known informally as Too Turnt Tea. NOCA beverages unique product offering allows customers non-carbonated, refreshing alternatives to the hard seltzers and ready-to-drink (RTD) beverages currently on shelves.
Since its inception in 2019, NOCA has achieved rapid growth through key distribution and retail partnerships, in conjunction with innovative marketing strategies. NOCA initially launched in New Hampshire and Massachusetts; and has since expanded their distribution footprint to 22 states in 2023. The brand currently offers a wide variety of boozy water and boozy lemonade flavors. To date, NOCA has established retail mandates at Kroger, Walmart, Albertsons, and a multitude of other regional chain accounts.
"Partnering with Too Turnt Tony is a dream come true" said Co-Founder Alex Febonio, "We have worked with Tony for years, and we're very excited to grow our brands together. The boozy iced tea has an incredible flavor, and we love the energy and excitement that Tony and his team bring to our company." NOCA has worked with Tony since his social following was only 2M people (now well over 20M). "The idea just hit me like a freight train one day while I was driving. I immediately picked up the phone and called up Tony's team to pitch them the idea. Since that moment, we've spent the past 10 months formulating this drink to be everything you love in a tea with a better for you boozy twist."
Since the ideation, Tony was looking for what he called "a better for you and better tasting" alternative to what was on the market. "I am so happy with the final product - it not only tastes fantastic, but everything from the nutritional facts, to the branding and taste, is aligned with my brand identity", said Tony. "Fans have been asking for me to launch a booze line since the very beginning, and I know once people around the country get a chance to try Too Turnt Tea, it is something they will love. It is what I call a total home run".
The boozy iced tea contains 5% alcohol by volume, 95 calories, 2g sugar, 2g carbohydrates, electrolytes, and is gluten free with absolutely no carbonation. The 12 pack will be available online and at stores in early March and will retail for $16.00 - $19.00, depending on the retailer. For more information, please visit drinknoca.com or find us on your favorite platform: Instagram, Tik Tok, and Facebook. Please follow Tony on Instagram and Tik Tok, and TooTurntTea Instagram and Tik Tok.
About NOCA Beverages
NOCA is the first bubble-free boozy beverage brand. NOCA brings to market the smoothest boozy beverages possible that never leave consumers feeling full or bloated. Headquartered in Boston, MA, and led by three college friends, NOCA is currently distributed in 15 states and quickly expanding across the country. For more information about NOCA and where to find a store near you, please visit https://drinknoca.com/.