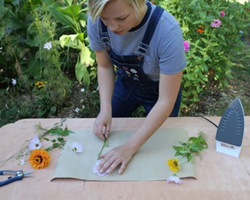 You spend all this time selecting a bouquet, budget the money, and make it such a focal point—wouldn't you want to preserve it too? -- Allison Zeeb
NAPERVILLE, Ill. (PRWEB) September 18, 2020
The horticulturists and owners behind NoFarmNeeded make it their mission to preserve (quite literally) one of the most beautiful of matrimonial traditions: the wedding bouquet.
NoFarmNeeded co-owners Allison Zeeb and Gail Pabst offer advice, resources, and products to plant, preserve, and display botanicals. They are two of the very few local licensed horticulturists applying their expertise to preserving wedding bouquets.
"When you think about it," Allison reflects, "You spend all this time selecting a bouquet, budget the money, and make it such a focal point—wouldn't you want to preserve it too? It can be such a statement and conversation piece for family and friends years later."
Allison discourages people from using the thickest book owned (often a dictionary) and cramming an arrangement in between the pages. "Each flower is unique and handles pressing and drying differently," she explains. "How many times have you opened a book only to have brown and disintegrating petals cascade out? There are so many creative ways to preserve special occasion bouquets and admire them every day!"
With six-years' experience drying and arranging pressed flowers, Gail and Allison use 21st-century techniques to keep each flower's color and character. Bouquets can be pressed flat for frames or preserved three-dimensionally in a 3-D shadow box.
Whether it's for a wedding, engagement, or any other occasion, Allison and Gail offer these suggestions:

After the event, keep your bouquet in water and place it in the refrigerator. The flowers can keep their shape and color for about a week.
Within that week, deliver the arrangement to the botanical preservationist. NoFarmNeeded easily schedules an in-person pickup from customers who are in the Chicagoland area.
If shipping your flowers, wrap the stems in wet paper towels and cover with cling wrap.
Expect the process of drying, pressing, and arranging to take three to four weeks.
People often display their preserved bouquet with event photos or showcase the arrangement as a singular focal point. NoFarmNeeded can incorporate non-organic material into the display. One bride chose to use her grandmother's lace while another included peacock feathers from the original bouquet. "We really focus on creating a stunning arrangement filled with meaning," explains Allison.
Get DIY help for 3-D bouquet preservation or inquire about professional preservation at the nofarmneeded.com website.
NoFarmNeeded began as a blog then blossomed into a thriving local business dedicated to making spaces brighter and more beautiful with live and pressed plants, particularly flowers. Led by two expert horticulturists using 21st-century techniques, NoFarmNeeded offers resources and products to plant, preserve, and display botanicals. Visit nofarmneeded.com for inspiration and more information. Bring nature home!