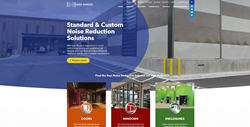 "We strive to provide the best user experience we can for those seeking information about our products and this new site delivers on that."
DEER PARK, Ill. (PRWEB) September 29, 2020
Noise Barriers, a leading brand of metal noise control products serving the industrial and architectural markets, is pleased to announce the launch of a new and improved website. The new site features vastly enhanced navigation, fully responsive design and swift access to product information.
A key feature of the new site is a password protected rep portal. This portal allows channel partners access to valuable product data, training materials and marketing tools with the click of a button. "We are thrilled to offer this upgraded website to our partners, influencers and the acoustic community at large," said Jennifer Chagnon, Chief Marketing Officer for Catalyst Acoustics Group." We strive to provide the best user experience we can for those seeking information about our products and this new site delivers on that."
The all new NoiseBarriers.com also features a blog section where visitors can stay informed with the latest industry news, technical tips, press releases, featured products and case studies.
About Noise Barriers
Noise Barriers is a leading manufacturer of high performing metal noise control products serving the industrial and architectural markets. Products include architectural doors, industrial doors, windows, barrier systems, absorption panels, complete enclosure systems, audiometric exam rooms, music practice rooms, and specialty products
About Catalyst Acoustics Group
Catalyst Acoustics Group is the parent company of an elite group of acoustic, seismic, vibration and noise control companies that together, offer the broadest portfolio of noise control solutions in the market today. The independent brands, channels to market, products and services offered by each business remain unique, while leveraging the scale, deep functional expertise, broad channel reach and significant financial resources.
For More Information, Contact
Jennifer Chagnon
Chief Marketing Officer
Catalyst Acoustics Group
jchagnon@catalystacoustics.com